by Leah Wescott
Editor-in-Chief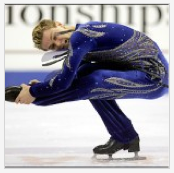 2010 marked a dramatic change in men's skating fashion, as sequins and sparkly unitards took center stage at the Vancouver Olympics. Fashion-forward skaters like Johnny Weir have changed the face of bling-sewn spandex. Costumes bedazzled from head to toe are now the minimum expectation for skaters competing at the highest level. Unfortunately, the change has had an unexpected and devestating impact on college orientation programs.
"We depend on glitter for our most important promotional items, and men's figure skating has decimated the earth's supply," said an executive from the National Orientation Directors Association (NODA). "It's tragic. Sparkly posters, glitter-glued shirts and glitter pens may never again play their hallowed role in transitioning new students. How are we supposed to help new students now?"
A special task force of orientation administrators has requested a joint meeting with the International Olympic Committee and Al Gore this spring. Dubbed the "Glitter Fair Use Coalition," the group may revolutionize global glitter politics.
"We're not even sure sequins are a renewable resource," said Tawnie Muirhead, assistant director of campus transitions at Lockheed University. "We hope to convince Vice President Gore that overreliance on sparkles is bad for the earth. We don't want to eliminate glitter; We just want to show that we were there first."