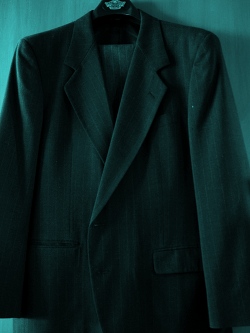 In the most awkward Chicago moment since Michael Jordan bought the Bobcats, 70 candidates at The Placement Exchange (TPE) showed up for job interviews last week to find they had all dressed in the same black suit.
Organizers of TPE, the annual national job fair for professionals in college student affairs, met in an emergency session while volunteers steered humiliated candidates to the adjacent "Stress-Free Zone" for massages, Play Doh, and post-trauma counseling.
"It was only a matter of time," said one employer who saw the same suit appear at his table five candidates in a row. "Student affairs pros aren't known as style icons, and they work on a limited budget. Still, it would help if they learned to accessorize more strategically so I could tell them apart."
A TPE representative has approached officials from the National Association of Student Personnel Administrators (NASPA) who are holding their annual conference in the same Chicago convention center this week.
"We think we could throw together a workshop on conference fashion this week," explained the representative. "It's too late for this year's TPE, but we can be proactive as we consider future participants."