By Anselmo Watkins
Freelance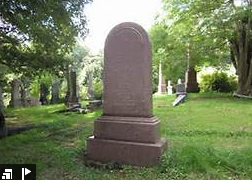 Long-time Bottomley College employee Wally Lipscombe was remembered for his crotchety demeanor and his ability to tell whimsical and cautionary stories in nearly any situation in a somber on-campus memorial service Wednesday.
Lipscombe joined Bottomley College in 1993 as director of IT implementation at the Duffy Center for Project Management. He stayed in that position until his passing on Sunday at the age of 65.
"You would see Wally wandering around the center almost every day," Professor Jon Smith, director of the Duffy Center, said. "He'd putter around on his computer for a couple of hours, yell at the screen about things he didn't like, then make his rounds. You could set your watch to it. He'd come looking for me in my office around 11:16 every day," Smith added. "There is a void now."
It was his life experiences that allowed Lipscombe to interject a long and rambling story that into almost any conversation, as administrative assistant Dina Dorf recalled.
"Just a couple of weeks ago we were talking at lunch about how the administration was raising parking rates and Wally's eyes just lit up," she said. "He sat right up in his chair and said 'You know, back when I was at Smithville, we had a guy come in and throw a monitor into the director's lap.' We laughed and laughed!"
Concerns had been raised recently when staffers noticed that Libscombe was repeating stories more than usual.
He had his good days and his bad days," said manager Chris Devoe. "About a month ago a group of us were standing at reception, talking about our director and he started off 'Back when I was with Data Tech' and launched into the story about when he hot glue gunned M&M's to the boss's monitor. He had forgotten that he had told that story just a couple of days before in a department-wide meeting. Now I realize how much I love that M&M story, and I wish I could hear it again."
"It was a blast just to be in the room with him. I learned so much," said Lipscombe's student-intern Andy Ray. "I'd come into the office after class and he would be yelling at his computer about Obama, or health care, or something. Then he would tell me about his college days when he spent 16 hours typing out punch-cards to program a computer. It was an exciting learning environment, except when he would doze off occasionally."
According to Professor Smith, Lipscombe's expertise with computers will also be missed.
"He was a miracle worker, really," said Smith, adding that as a ladder-rank faculty member he really didn't understand computers or Lipscombe\'s role. "Whenever I asked for help with my computer, Bob used a lot of technical words to explain why my request was out of line. Once, when he was checking on my computer, I touched the screen with my finger and he yelled at me about fingerprints. It was a life lesson I\'ll appreciate forever."