by Anselmo Watkins
Freelance Writer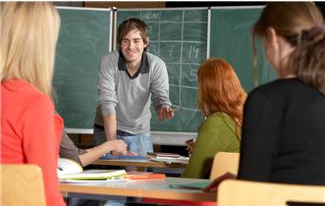 In his six years at the Terra Nova University, Professor of Sociology Phil Dunston has twice been voted professor of the year by his students. His 2008 book on the sociological aspects of youth football among the children of Pennsylvania coal miners, Blocking the Mine, is in its third printing.
But despite these positives, Dunston announced that he will be leaving TNU as he learned he was denied tenure Friday.
"I have enjoyed my time here at TNU, but it has been made clear that it is time for me and my family to move on," Dunston wrote in a prepared statement. "I want to thank the amazing students and faculty that I have met and worked with in the last six years."
TNU Sociology chair Anne Elke said that denying tenure was a difficult decision, but the right one.
"It was a combination of factors," Elke said. "The students really seemed to like him, almost too much. You have to wonder if he was really challenging them academically. And his research, if you can call it that, wasn't esoteric enough. In the end, his remaining here would have simply been too difficult for the rest of the faculty."
College of Humanities chair and Creative Writing professor Johnston Armstrong III was sympathetic to the 36-year-old Dunston's case, but said that Dunston had brought on the failure himself. "He made his choice about his area of interest. He seems to have forgotten that research in the liberal arts is supposed to be ambiguous and unreachable. This is not the hard sciences, where faculty are researching and inventing things that could benefit mankind."
As an example, Armstrong explained that his own recent article, Bolstered Stamps: An Examination Concerning the Rumor, has yet to be read outside a classroom since it's publication in 2008.
"If we start writing things that people actually want to read, then we risk setting a standard of useful research that the liberal arts cannot possibly maintain. So it is important to nip this in the bud now," Armstrong said.
In contrast, TNU students were heartbroken to hear that Dunston had not received tenure.
Senior Garrett Russell, a wide receiver on the TNU football team, said that Dunston's classes and book captured his interest and helped him decide to get a degree in sociology. "All I cared about was football, man. But Phil really reached me. I thought I was learning more about football, but I was learning about life."
One of Dunston's fellow faculty members, who asked that his name not be used, was happy to see him denied tenure. "Where does he get off doing research that people are actually interested in? His research was just crass! Football? Are we ingratiating ourselves to the 'typical American'? At what cost? We have to be better than that," she said. "What message is he sending, not only to the students, but to the academic community? This guy is a disgrace to higher education. I hope he ends up teaching at a junior college. That will teach him."