by Brody Truce
Senior Staff Writer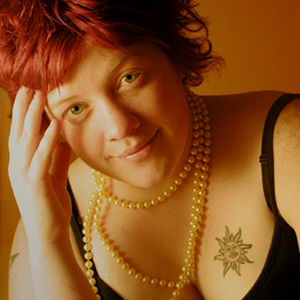 This year's ACUHO-I Conference in Austin, Texas has been a powerhouse of impressive presentations. Of note was Teri Bump's "Hip and Sage" presentation about networking and personal branding. One participant, Laci Dibler, took Teri's presentation to heart. Literally.
"I was just so inspired by Ms. Bump's presentation about personal branding," said Dibler, a first-year graduate student in The College of Eastern Nevada's College Student Personnel program. "I knew right away that I didn't have a personal brand, so I went out and got one. I was so excited that I didn't even stay until the end of the presentation!"
Eyewitnesses report that Dibler raced from the conference center and ran to a local tattoo parlor to have the following images inked onto her left bosom: an animal rights symbol, the Victoria's Secret Pink logo and a bottle of Diet Coke.
"These are all things that are super important to me, so I wanted them close to my heart. Now, everyone will know what my personal brand is."
Of particular interest to Dibler might have been the last five minutes of the presentation, in which the presenter cautioned against piercing and tattoos.