by Lawrence Butzen and Bitsy Carmichael
Freelance Writers
Turns Out Honesty May Be the Best Policy
New students and their families were astonished at their experience during Lave College's summer orientation program. While most schools spend their time following best practices and seeking a "standard of perfection" in their programs, Lave's approach to customer service may increasingly become a standard by which others measure their success.
Allen Prasale, Director of New Student Programs, explained their approach saying, "We don't base the program on best practices. Since prospective students are putting deposits down for multiple institutions, it's important to us to make sure that we stand out. We've utilized this new approach in every aspect of the program."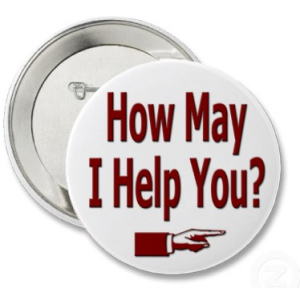 First step was in the recruitment and selection of the Orientation Leaders (OLs). Instead of spending a significant amount of time on this process as they usually do, the staff at Lave chose a grass roots approach by recruiting on the spot. One of the newest OLs, Leah Braunne, has enjoyed her experience so far, after being approached while leaving the campus recreation center. "I had just finished working out," stated Braunne, "and someone gave me this 'Can I help you?' button and told me to come to the Union."
But the OLs do not get name tags, nor do the incoming students. Prasale explained this stating, "In all seriousness, we will not remember their names in the fall anyway, so why try to act like we will?"
Due to previous complaints that students were unable to see their assigned dorm rooms, the staff at Lave just decided not to provide housing for the overnight experience.
"When they handed my son a linen pack and told him to find his own housing, I admit I was a bit concerned," stated Aimee Herkerlang, whose son is an incoming freshman. "But then when I saw him this morning huddled under a tree with three other students, I was just so excited that he\'d made new friends."
According to previous orientation evaluations, many students also noted that programs were "too long" and they would have preferred time for other activities, such as "naps and snack time." Therefore, Butch Biggins, Head of IT, created a program to allow students to live tweet during sessions, using a designated hashtag. "We know they\'re going to be texting and tweeting during the sessions anyway," stated Biggins. "Now they can share their opinions as sessions progress. I monitor the tweets on TweetDeck, and if ratings are poor, we will end the session early."
Perhaps most memorable for incoming students is the recent addition of a University sponsored pub crawl during overnight summer sessions. Orientation Leaders take students to local establishments, making sure that rather than acquiring fake identification, they are aware of the local facilities which cater specifically to minors.
"They're going to drink once they get here anyway." said VP for Enrollment Francis Alan. "This way they're in a controlled environment and their Orientation Leaders can teach them how to be most effective with the limited funds they have freshman year. They will have more money to purchase books and focus on their studies. Everyone wins."