South Carolina Football Secedes from NCAA
Ole Miss, Georgia, Alabama Rumored to Follow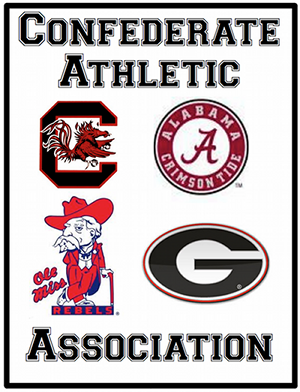 South Carolina set off the latest football conference shakeup yesterday, when Coach Steve Spurrier announced the University's secession from the National Collegiate Athletic Association (NCAA).
"We, the Gamecocks of the University of South Carolina," began Spurrier, "in this press conference assembled, do declare and ordain… that the Union now subsisting between South Carolina and other member institutions under the name of 'the National Collegiate Athletic Association,' is hereby dissolved."
There is widespread speculation that Ole Miss, the University of Georgia, and Alabama will follow the Gamecocks lead, and secede this week. All three schools have scheduled press conferences.
Speculation had built all summer that several members of the SouthEastern Conference (SEC) might break away. The June meeting of SEC athletic directors and coaches in Charleston, South Carolina had ended with Spurrier, Ole Miss Coach Houston Nutt, Georgia Coach Mark Richt, and Georgia Athletic Director Damon Evans breaking into an armory at the Citadel, where they stole a cannon and fired volleys at tour boats taking vacationers to nearby Fort Sumter.
No one was injured in that incident, and none of the coaches were charged, according to Hampton Bouknight, Charleston's Chief of Police. "Well, they were just having a bit of fun," Bouknight commented. "And what do you expect me to do, anyway? They're football coaches. Everybody knows that you can't charge a football player with a crime until after bowl season. So don't get me started on why we didn't arrest the coaches."
Bouknight went on to add, "In our defense, if it had just been that one fancy-pants athletic director, we would've charged him right away. Everyone hates athletic directors, anyway." (In an unrelated incident, Evans later lost his job, after being charged with driving under the influence in Atlanta, while in the company of a young woman who was not his wife.)
Fox Sports announced that it will create another regional sports network, similar to the Big Ten network, to air the new conference's games. According to a joint statement by Fox Sports and the new Confederate Conference, "Membership will be limited to to 12 institutions, and no member universities situated north of the Mason-Dixon Line, nor below the southern border of Georgia, shall be considered for inclusion." Proceeds from the network's broadcasts may be used by member universities to create legal defense funds for student athletes, to pay severance packages for athletic directors and coaches, or to add club seats to their stadiums. The first televised Confederate Conference match-up this season took place September 11, 2010 when South Carolina played Georgia.
by Aloysius St. Bernard
Freelance Writer