by Irma Pelt
Senior Staff Writer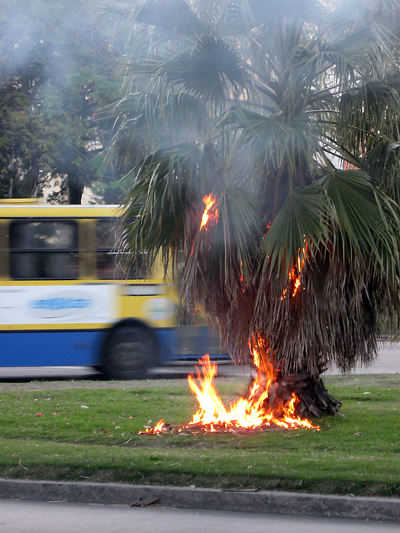 Harlan College came under fire this week for not intervening in a riot that occurred after the school's football team lost to its rival, Wade State University. According to police reports, the riot lasted more than two hours before onlookers realized that what was happening was not planned.
"It was really confusing," said Erin Stover, a freshman at Harlan. "There were a lot of people screaming and running around in the street outside the stadium. I even saw someone light a couch on fire."
Stover said that she spent her first two weeks at college anticipating a flash mob and thought this was it.
"All of my friends had these awesome flash mobs on their campuses," said Stover. "They kept sharing YouTube videos of choreographed dance routines breaking out in dining halls and at university events. I thought I was going to finally be able to show my friends that I go to a legit school, too."
Stover recorded the riot on her cell phone until its battery died 37 minutes into the incident. That footage is now being used as evidence by campus and local police agencies, as well as the university admissions office.
"Erin's footage has been an invaluable resource for us," said Christopher Cutshall, president of Harlan.
Cutshall said the video, which shows campus police officers and students cheering the rioters on with loud applause and lyrics to songs by the band Journey as they flip a car, is being used as the university plans its official admissions flash mob video.
"We think there are probably some good takeaways from this," said Cutshall. "Clearly people were drawn to something about this crowd. We're hoping to use these techniques to hone what we will show as our best to the soon-to-be-admitted Class of 2015."