by Alan Finch
Freelance Writer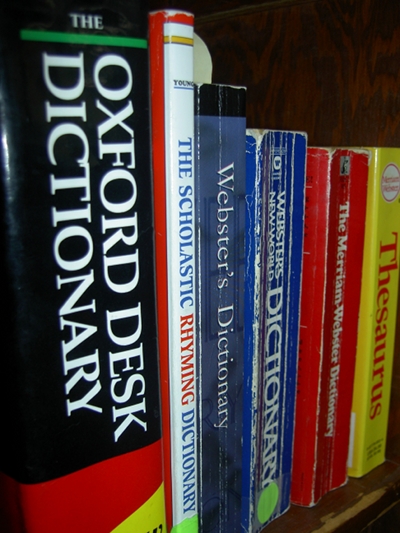 The Office of Student Affairs at Holbrook College, a small liberal arts college in northeast Wisconsin, is petitioning famed publishers Merriam-Webster for a greatly expanded thesaurus. The office seeks outside assistance after a nearly twelve-month effort to revise its mission statement.
The process began last fall when Dean of Students, Dr. Carrie Shulte, assembled a group of Holbrook faculty, staff, students and community partners to review and update the office's mission statement, a process last undertaken three years ago. According to Dr. Shulte, the previous statement was "woefully obsolete."
In a recent interview with The Hero, Holbrook's weekly paper, Dr. Shulte was asked about the group's progress. "I am grateful for the time and hard work each member of the committee has given thus far. Unfortunately, they seem to have hit a roadblock."
The roadblock referred to by Dr. Shulte comes from an e-mail sent by Francis McCombs, chair of the revision task force. In her e-mail, McCombs stated, "We have attempted to crystallize the distinct and important role of each functional area within the OSA and the impact each area has on student development. Unfortunately, we simply ran out of words."
When reached by phone for follow-up, McCombs focused on the enormity of the task. "We have so many great people doing such great work – we didn't want to lose any of that." Based on McCombs' account, attempts to capture the varied efforts led to ever-growing statements. "Moreover," said McCombs, "we found ourselves using the same language throughout. Even with a current thesaurus, there are only so many synonyms for words like 'strive,' 'develop,' and 'foster.'"
Holbrook linguistics professor Dr. Janice Thompson, an expert in language evolution, was contacted by the task force for assistance with the statement. "This was a first for me," says Dr. Thompson. "They wanted to know if I could suggest new words to enliven the document or reduce repetition. I suggested simplifying the scope, but that met with blank stares."
McCombs confirmed the account. "We thought this presented an excellent opportunity for collaboration with faculty partners. Unfortunately, we were mistaken." When asked to expand, McCombs said only, "Thoreau used over 100,000 words in his effort to tell people to simplify. I think we can agree we've embarked on something much greater here."
Representatives at Merriam-Webster were unable to comment specifically on the College's request. They did, however, confirm an updated version of their thesaurus is released annually.
With fall semester already underway, Dr. Shulte is hopeful the group will finalize a statement soon. Said Dr. Shulte, "We're sailing without the North Star. I hope we don't lose our way."
Editorial Note: A copy of the current draft mission statement was obtained by CronkNews.com. At the time of publication, it reads:
The Office of Student Affairs, consisting of five functional units including Student Activities, Fraternity and Sorority Life, Multicultural Services, Student Counseling, and Residence Life, believes in actively contributing to the holistic development of each and every student at Holbrook College. To that end, we endeavor to augment the curricular mission with supplementary experiences designed to further propel student growth and expand opportunities for knowledge acquisition. Furthermore, the Office of Student Affairs seeks to enthusiastically embrace internal and external collaborative relationships to leverage positive change and generate innovative programmatic and developmental paradigms. We recognize the uniqueness of each Holbrook student and take pragmatically appropriate steps to engage with each as an individual in an environment of mutual respect, support, encouragement, and trust. Finally, the Office of Student Affairs understands Holbrook students, faculty, staff, and community partners are active participants in fomenting a culture of contribution and strive to vigorously provide an open, inclusive environment in which everyone can experience success.