by Evan Brews
Freelance Writer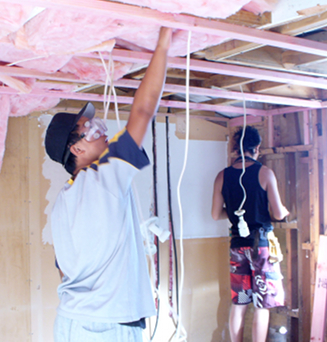 Students living on campus at South Festoon University are growing concerned with a sharp increase in write-ups stemming from what they deem to be absurd reasons.
Returning student Kimberly Anatole reported that she was written up for littering within the first few days of move-in. Anatole stated that she was "in her room chillaxing" when the RA knocked on the door and told her that "her door decoration had fallen off the door and into the hallway." Anatole added, "I only had one decoration on my door, and it was made by my RA. I'm pretty sure she walked by and pulled it off herself."
It appears that, in many of these situations, residents who are found guilty of such innocuous violations have been given the same sanction – community service hours working on the campus's newest housing construction project, Stannert Hall. As late as last month the new building, which will increase the overall housing capacity of SFU by 57%, was reported as three months behind schedule and approximately three million dollars over budget. At that time, Director of housing services Sarah Von Bronswick stated, "I have no fear that within the next few months this project will be back on track and well within budget."
New freshman David Glonis was also written-up early in the semester. "During move-in I was hammering together a bookshelf when my RA came into my room," said Glonis. "He wrote me up for violating quiet hours, are you kidding me?"
The next day Glonis met with his community director who reportedly told Glonis that "she had no choice and had to assign him to five hours of community service on the new hall project." Noting Glonis' abilities with the hammer, the community director wrote on the community service assignment that "as an educational opportunity the construction crew should maximize David's ability with tools." Glonis added, "I was so confused… One day I'm hammering together my bookshelf and the next day I'm putting up bookshelves in the new building."
When asked if the increased student work activity on the new hall project had anything to do with the rise in documented policy violations Von Bronswick emphatically stated, "It is absolutely absurd to think there would be any correlation between the new hall project and the increase in policy violations." Von Bronswick further added, "I have worked very hard this year to build a staff that is committed to holding students accountable and working to build strong communities through effective patrolling measures."
Inside sources reveal that, since the first two weeks of conduct hearings, the construction project is now scheduled to be completed on time and within budget. Plans have also been added to the original construction model, including an additional unit that will house the Office of Housing Services, which includes a luxurious new executive suite for the director.