By Brody K. Truce
Senior Staff Writer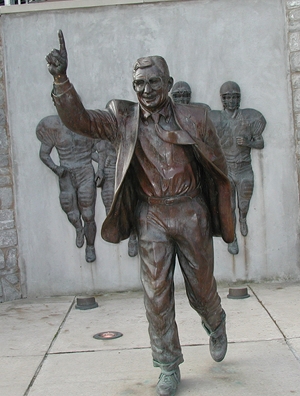 For nearly ten years, a bronze statue of Joe Paterno has graced the entrance to Penn State University's Beaver Stadium. The statue has received considerable attention since it was erected, including a scandal involving the theft of the statue's signature glasses last year. But this year, the statue has been receiving a different kind of attention.
"I just had this sense that someone was watching me," said Jaime Eagen, an alumna of Penn State's education program and Ogontz School transfer student. "I mean, we were drinking and there were tons of people, but I felt like these eyes were just on me the whole time."
Eagen, who was tailgating during Penn State's traditional Blue/White game last April, described the experience as "unnerving."
"After about twenty minutes, I went to the emergency callbox and reported it. I'm from Philly, and if we see something in Philly, we say something."
Since the initial report in April, there have been two other calls about the statue. Jenni Bauman, a senior resident assistant from East Halls, reported a similar problem while she was jogging around the stadium during RA training. "It was like, every time I came around the corner, there he was, just pointing and poised to run at me. I carry mace with me all the time now."
Jessie Hunt, a first year student living in Tener Hall, reported a problem with the statue during move-in week this year. "We were minding our own business, just drinking out by the stadium, and I kept seeing this weird guy pointing at me out the corner of my eye." Jessie promptly ran to the callbox to report the incident, something she says she learned during orientation.
University police refused to comment on the allegations, stating that they could not provide information related to an ongoing investigation.