by AJ Marshfield
Freelance Writer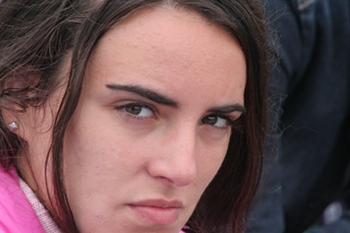 In an unprecedented example of how college is not exactly like the movies, 19-year-old Nancy Whittaker has discovered she is not best friends with her college roommate, Morgan McDaniels.
"It's nothing at all like 'Felicity' or even Van Wilder…it's like we don't even talk," said Whittaker, while filling out a room change request. "We don't have secret codes for dining center food, and we've NEVER ordered breadsticks together at 1:00 a.m. while talking about the night we lost our virginity."
Although Riverhill University Department of Residence boasts an 85% success rate with its online system for the 6500 on-campus students to find and select a roommate based on common interests, experiences and habits, Whittaker railed against said system. "She [McDaniels] said she was a 'night owl' who enjoys club music, but she's gone to bed every night at, like, 10 p.m., and she only listens to that one Dave Matthews song over and over! She's nice and everything, but come on."
Jackson Massey, Whittaker's residence hall director, provided only a short interview, stating that he was too busy handling roommate situations involving active hatred.
"Not being best friends is better than waking up and finding yourself duct-taped to your bed. Speaking of which, my 3 o'clock appointment is here," said Massey.
When interviewed about her relationship with Whittaker, McDaniels shrugged and stated, "I guess she's okay. I'm not around much because I'm working three jobs and in four student organizations. Some days, I don't even see my room. Whoever said college was all about partying and being best friends with your roommate must have watched those bullshit American Pie movies in high school."
At press time, Whittaker planned to move to Leif Hall on the far side of campus. "It's pretty close to Fraternity Row, but I've seen Animal House. I can handle anything."