by Zack Ford
Freelance Writer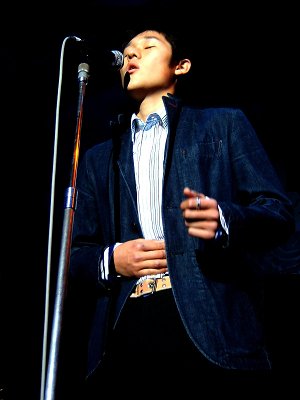 All 16 members of Sparta College's acclaimed all-male a cappella group, Spartappella, announced this week that they would not be returning to campus after Fall Break. After negotiations all summer, the group has secured a professional recording contract and will begin work on their premiere wide-release album immediately.
The group's conductor, Bobbie Fritz '10, explained that even though the membership of Spartappella changes from year to year, this year's group members were "uniquely in sync and eager to take our sound to the street. According to a recent Washington Post article, the street is crying out for dorky but charming college guys."
Group member and senior Houston Minogue says the decision makes perfect sense.
"Every one of our free concerts during lunchtime at the college cafeteria sells out, and high schools are always eager to book our workshop tours. Our student government-subsidized albums always sell like hot cakes. We've won a ton of ICCA and BOCA awards, and with so many girls – and guys – fawning over us, it's time to share our love of music with a wider audience."
For legal reasons, the group will not be able to use the name "Spartappella" professionally, but Fritz says that's okay. "Spartappella will stay here where it belongs while we share the heart of Sparta College with the world. We sing for the glory of Sparta!"
There has been no word on who will assume leadership of Spartappella with all its current members gone.
Fritz is also excited that Neil Wu '10 will be sticking with the group. "Neil would've won American Idol if his class schedule hadn't kept him from competing." Wu, one of the group's featured soloists, recently dropped his own solo album, Lovely Hello, which has been downloaded over a dozen times on iTunes since its release. Fritz expects that with 16 more singers, they will sell 16 times more downloads.
George Cicola '08 has been part of the creative and technical team for the group since graduating and will continue to serve as manager. "I think this is an amazing opportunity for the guys and I'm excited to continue working with them. I'll be so proud to be a Spartappella alum when we sell out our first arena. Also, we're sure Stephanie Meyer will be very excited about our idea to include an a cappella group in the next Twilight book or movie."
Wendy Nowak, Sparta's Provost and Vice President of Academic Affairs, is proud of the students' ambition. She wishes them the best but offers that "Sparta College will welcome them back with open arms to complete their degrees if it turns out that college a cappella is not so popular beyond the borders of, you know, the Sparta auditorium."