by Anselmo Watkins
Freelance Writer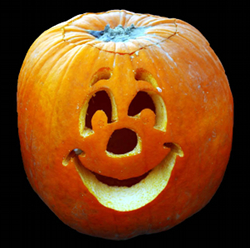 Tim Peterson, director of Student Judicial Affairs at Sherman T. Potter University, admitted disappointment that a fraternity's annual haunted house fundraiser had nothing offensive or worth prosecuting.
In the last six years, the Sigma Rho Omega fraternity has been sanctioned four times for "inappropriate content" at their annual "Hell-O-ween House." Past indiscretions included a skeleton hanging from a gallows and a girl chased by an axe-wielding maniac.
"Their past efforts have been offensive on many levels. They had a 'maniac' chasing a nun around the maze. Calling someone a 'maniac' is really insensitive towards those people with diagnosed antisocial disorders. And the hangman's gallows is so inappropriate! Sure, you couldn't tell the color of the skeleton's skin, but it is a mostly-white fraternity. Where do you think they were going with that?"
But in 2010, the fraternity "got the message" according to President Roan Halper.
"To be honest, it just wasn't worth getting hit with a fine," said Halper. "The money that we raise from this is going towards a new pediatric cancer center and Potter Country Hospital. It's pretty important, so we just played it straight."
This year's haunted house features traditional ghosts, goblins and ghouls. The majority of creatures are gender neutral, and, in the cases of those that aren't, a male character is the one victimized.
Peterson said that while he was indifferent to the fraternity's 2010 effort, saying that he had "been more scared watching Glenn Beck speak at the Municipal Auditorium last month," he expressed concern that the group's social awareness and attempts to be good citizens could leave him without much to do.
"My life, my career, is built around sanctioning students, punishing them for things that their parents should have taught them not to do," he explained. "Honestly, writing up the report on the Hell-O-ween House had become a bit of a tradition. On Halloween night, I would sit at my desk in my office, drink a cognac, and type it up on the old Selectric in the corner. It just won't be the same."