by Irma Pelt
Senior Staff Writer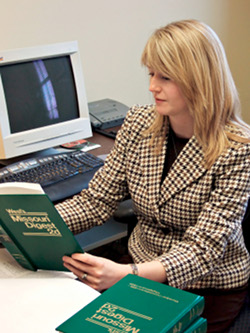 The American Bar Association (ABA) reported a shortage of available lawyers across the nation this week. The report described a near-crisis situation caused largely by college students and their parents.
"Every college student has a lawyer on retainer, sometimes two or three lawyers," said Fritz Summers, spokesperson for ABA.
"We simply aren't producing enough lawyers in this country to maintain this workload. Even those schmuck lawyers who advertise on the back cover of the phone book aren't available."
"Yeah, I have two lawyers on retainer just in case," said Rebecca Homburg, a first-year student at Edan College.
Homburg had no need for lawyers prior to college.
"I like knowing they're available. I call all the time with questions for them. Like, my professor wanted me to revise a paper so I asked one of my lawyers if I had to do it," said Homburg.
Homburg also said she was scheduled for a conduct meeting because she had a burning candle in her dorm room.
"As soon as I mentioned my lawyer, I didn't have to meet with anyone. My lawyer is handling all of that for me," said Homburg.
Tyson Reynolds, Homburg's attorney, is communicating with Edan's legal counsel.
"Rebecca will probably still have to meet with someone on campus eventually. All I'm really doing is holding up the process. But I'm making a shit ton of money doing it," said Reynolds.
Summers said pending lawsuits and other legal situations are not being attended to because of the shortage.
"We have people sitting in jail with legitimate legal needs not being addressed because these people are essentially hoarding lawyers," said Summers.
According to Summers, the ABA has received reports of parents of toddlers attempting to plan for their students' legal futures. "The parents of preschoolers are trying to put promising junior high students on retainer in case they become lawyers. That just isn't right."