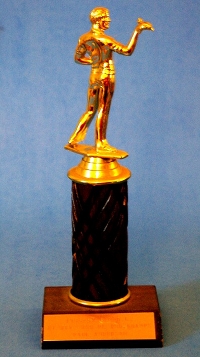 by Evan Brews
Freelance Writer
Jack Jackson, assistant director for departmental direction at the College of the West University, was awarded the award for the Best Overall Program Overall at this year's recently concluded annual convention of the National Program for Recognizing Programs.
Jack's program, titled "All A-Board", was a series of pre-made bulletin boards illustrating the techniques associated with making outstanding bulletin boards. When asked about the award Jack stated, "I'm just excited to have been recognized for my program. I hope my bulletin boards about bulletin boards can set others up to be successful."
Mickey McDaniels, who works with Jack at CWU, wrote the following in her nomination for Jack's efforts:
Jack's bulletin boards have been posted around our office and have been the benchmark for bulletin board success in our campus community. His efforts to educate individuals on educational bulletin boards have made CWU a better place.
Jack narrowly beat Kelly Keller's program, "Much To-Do about Nothing," for the prestigious award. Keller's program involved the creation of to-do tablets for people to track their to-do lists and has been heralded as an outstanding tool by her colleagues.
According to Stu Stewart, who works with Kelly, "I use Kelly's to-do tablets for my to-dos on a daily basis here at College State Institute. I couldn't imagine my life without the ability to prioritize all of my many competing priorities."
The NPRP's overall mission revolves around the commitment of being committed to recognizing programming efforts that are worthy of recognition.
Harry Harrington, committee chair for the recognition committee for NPRP, explained, "We are very fortunate to present our annual awards every year to recognize efforts worth recognizing." When asked what in particular stood out for this year's winner "All A-Board," Mr. Harrington noted, "Our committee exists to recognize programs that are designed to help people with programs. It is simple as that. Jack's bulletin boards are the epitome of what we work to recognize here in the NPRP."