by Irma Pelt
Senior Staff Writer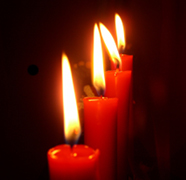 Responding to criticism that there have been too many candle light vigils on campus this quarter, Martens University has scheduled what staff are calling the university's last.
"We were really burning resources by having a vigil every time there was a new issue or supposed crisis," said Fiona Jarvey, coordinator of special events at Martens.
According to the campus calendar, there were 19 vigils held in the first five weeks of the quarter.
"Oh, they ran the gamut from national crises to raising awareness of issues," said Jarvey. "They were all legitimate in their own way, I guess, but scheduling the portico has turned into a nightmare."
Among this quarter's vigils, the student programming board held one to raise awareness of the national helium shortage, which was then countered by a vigil organized by Students With Latex Allergies.
Jarvey said that the final vigil will not address a specific theme or issue.
"It's kind of a choose your own issue deal," said Jarvey. "We'll supply the candles and those little things to catch the wax drips. Students, faculty and staff need to supply their own causes."
Jarvey has lined up a variety of non-specific speakers, including Martens' associate provost, the secretary of the fine arts department and an out of state student.
"This should really cover our bases," said Jarvey. "I don't want to seem heartless, but I was missing a lot of my pizza and beer bowling league nights for these vigils."