by Irma Pelt
Senior Staff Writer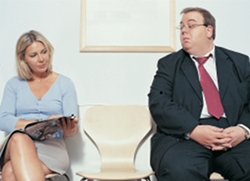 With conference attendance at an all-time low due to budget cuts, student affairs professional organizations and associations are looking to make up costs in new ways. Taking a cue from airlines, the National Student Affairs Personnel Association (NSAPA) announced that it will be charging an additional fee for 'attendees of size' at its annual conference in March.
"While we understand that this may make people feel uncomfortable, it is a critical step for our association and our fiscal responsibility," said Charlotte Pearman, conference planning chair.
"Our attendees of size may consume more than their fair share at receptions and should be paying as such," said Pearman.
The opening reception will be run like a grocery store salad bar where attendees will have their plates of hors d'ouerves weighed before being allowed to mingle.
"That $600 conference registration fee only entitles a person to so many herb cheese stuffed tomatoes," said Pearman.
Pearman also explained that because chairs in program rooms are placed extremely close together, a larger conference attendee may require two chairs to sit comfortably. Attendees in this situation will need to provide their anticipated session itinerary to the conference planning committee in advance.
"This may displace one of our smaller members into a different session, one that they're not as interested in," said Pearman. "We want to ensure that everyone has equal opportunity to enjoy the conference. By knowing that we're losing seats in a session, we can plan better for everyone."
David Mazzaro, a long-standing member of NSAPA, is disappointed in the decision of the planning committee.
"I am not what one would call a diminutive person," said Mazzaro. "But I've heard that they're planning to install scales in front of the registration counter that will tell them how much we weigh as we're getting our name tags."