by AJ Marshfield
Freelance Writer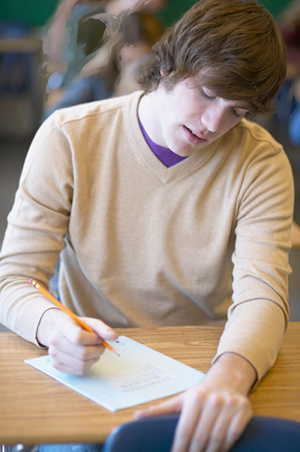 While filling out a comment card in the dining center at Hengebrook University, college freshman Daniel Pewter stated he was going to make a complaint about the quality of the food.
"It tastes just like my mom's."
Pewter had just finished dinner when, according to reports from his friends, he had an epiphany.
"I'm paying $7000 a semester to eat the same crap that's been shoveled onto my plate at home for years," said Pewter, pushing away his tray. "It's time someone stood up and complained."
Citing issues such as runny eggs and bland mashed potatoes, Pewter marked "dissatisfied" for each category on the Hengebrook Dining Center comment card. "Why can't you make anything I like?" he wrote in the comments section.
June Mattheson, director of dining services, stated that most students enjoy Hengebrook Dining. "We've won national awards several times for our variety, quality and nutrition. We don't order frozen foods. We try to make as much as possible from scratch, and we've also recently begun a 'Buy Local' campaign. It is very rare that we have students complain. In fact, most of them tell us our food tastes just like homemade."
Sophomore Tara Fischer reported that "[The food] is really pretty good. Their mac and cheese is just like my mom's, so it makes me less homesick."
Pewter reports that he has eaten nothing but cereal and salad for the last two months, and stated that he does not plan to change his eating habits.
"I won't be satisfied until Hengebrook can make a decent breakfast like Tom's mom made when we stayed over there after prom," said Pewter.
"Well, we're not a short-order restaurant," explained Mattheson. "We're trying to feed 20,000 on a tight budget, but if students want something specific, we do have make-it-yourself options."
"Yeah. Sounds just like my mom," said Pewter when he heard the response from Mattheson. "Budget, budget, blah blah…because it costs too much money to make a hot dog that isn't cold in the middle? And yeah, my mom had a 'make-it-yourself' option, too. It was called bread and peanut butter."
Pewter dropped his completed card in the confidential, locked comment box by the dining center exit and then pumped his fist twice amidst the cheers of his friends.
Upon seeing him submit the card, one dining center student worker said, "I hope that wasn't anything important, like a food allergy notification. No one has a key for that padlock."