by Barbara Murphy
Freelance Writer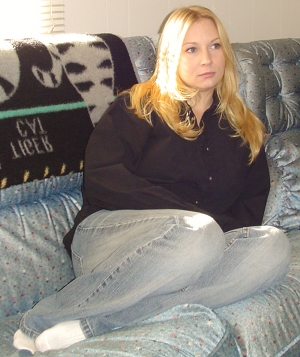 As students return from Thanksgiving break to the campus of Whinemore College, staff at WC's counseling services find their schedules packed with anxious students. While many assumed the anxiety related to impending final exams, counselors were surprised to find another source of student distress: returning home for the winter break.
According to counseling intern Jay Whitlow, "It's interesting. Just two weeks ago we were dealing with students suffering from homesickness. Now those same students are facing 'schoolsickness' at home in December and January. They clearly need our assistance in developing the coping mechanisms required to return to homes they lived in for 18 years before coming here three months ago."
Whitlow said Counseling Services will provide group sessions and seminars to deal with the influx of students. Seminars include:
High School Friends: How to Reconnect Without Icebreakers
Sibling Communication: Negotiating Without Involving your Parents, and
Sharing Space: Your Parents' House is Not a Single Room
Brochures on bathroom sanitation will be distributed to students living in halls with community bathrooms that are cleaned daily by custodial staff.
The Daily Whine (WC's newspaper) spoke with one student suffering from home-related anxiety. She said Residence Life staff are part of the problem.
"It's tough. I got used to talking for hours and hours to my RA about my problems," said the student. "When I tried to do that with my mom last weekend she gave me the strangest look. I texted my RA, but never heard back from her. It feels like I'm being abandoned."
A male student from Coddlington Hall said, "At WC when we have a Halo tournament. My RA makes a bracket and shows up with pizza. At home, it was just me and my friend from high school playing in his basement. It wasn't the same."
"Schoolsickness" isn't limited to Whinemore College students. The Council of College and University Counseling Centers (CCUCC) said this trend is growing.
"Conflict resolution is one of the primary issues we hear about" said CCUCC President Margaret Chalmers. "I read a case study about a student who called his university's crisis hotline during a break because his brother drank all of his Dr. Pepper. Apparently his father refused to mediate and the student couldn't cope."
When asked about her personal experience with this issue Chalmers, who has two college-aged children herself, said "It's tough. My daughter keeps asking for a room change and says hers doesn't 'smell right' since she's been gone. I told her there aren't any other rooms in our apartment but I don't think she believes me. She keeps threatening to call her grandmother to intervene. I'm not sure what to do but I'm hoping to make it through the end of break. Surely by summer break she will have calmed down."
While there is no clear consensus about what can be done to alleviate this new psychological trend, Whitlow believes the solution has to start at the school.
"We're hoping next year to work with residence life next year to tone down their efforts a bit," said Chalmers. "We're thinking that with quality training we can achieve living environments that are more in the 'mediocre' range and don't create such dissonance between home and school. We've overshot the mark this time but it's certainly not a problem that can't be fixed."