by Teena Angst
Freelance Writer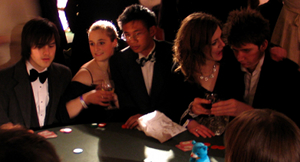 Whanover University has finally attained Tier One status to rank as one of the most competitive universities in the nation. Following a directive from trustees to become Tier One, as well as pressure from faculty, students and alumni, Whanover University took creative steps to achieve this ambitious goal.
Staff members realized this fall that LaPierre Casino, located just east of the institution, offered a competitive Tier Players Reward Program. Director of Annual Giving Franklin Smead realized the opportunity a few weeks after a weekend of unprofitable gambling at LaPierre. In the mail, he received a $1.00 rebate coupon and an invitation to the participation-based reward program.
According to Smead, "The opportunity to achieve status was right there in front of me and I realized that, with an additional $120,000 in gambling expenses, the university would finally be able to obtain Tier One status!"
University staff obtained twenty copies of the university's player card and offered to bus students to the local casino on weekdays, weeknights, weekends and holidays. Students were required to play at least three hours on each card in order to gain entrance to the residence halls. The student handbook was amended to include strict penalties for any students who tried to use any of the player rewards points for personal gain such as lanyards or food. After three months of dedicated efforts by both students and staff, the goal was achieved. Whanover University achieved Tier One status!
Since the announcement, excitement has been rampant at the campus. One student noted, "I've been wearing this 'Tier One' shirt for the past six years of my undergraduate career. I never knew what it meant. Now I know that my dedication to this free t-shirt – along with my gambling addiction – has made a difference. I wanted to make sure that the eight years I planned to invest in my undergraduate career meant something and now it does!"
Whanover's President Ramos compliments the ingenuity of the annual giving staff.
"We've been trying to get Tier One for years. No one we've asked can really define Tier One, but they all told us we should be it. Finally, we feel like we've reached a status that has a clear definition."
President Ramos further indicated that he will be propositioning the state legislature to boost the school's budget as a result of its increased status of Tier One. Among the new appropriations will be $150,000 in a gambling budget, which is needed to maintain competitive Tier One status each year.