by Alan Finch
Freelance Writer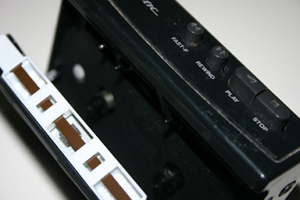 Last summer, administrators at Luckington College approved a plan to better integrate technology on campus. At the time, a joint faculty-administration committee recommended each new Luckington student be welcomed with a "free device to enhance the Luckington experience." Though not specified in the document, sources from the committee confirmed the device in question was generally thought of as an iPod, an iPhone or an iPad.
"That's correct," said one administrator wishing to remain anonymous. "We spent many hours discussing the apps we could develop – maps, emergency alert programs, even course registration tools. We thought it was clear."
Shortly after the vote, Luckington President Charles Feathers released a statement applauding the recommendation and detailing how the college would put the plan in place.
"Beginning this fall, each new Luckington student will receive a Sony Walkman and a series of audio cassettes," said Feathers. "Included will be a self-guided campus tour, a brief history of the institution and a recording of last year's commencement address by Luckington graduate and local personality Doug Browning of Browning Hyundai."
Additionally, faculty and staff were asked to develop and release tapes of lectures and special campus events to "keep the catalog fresh."
At the time, Feathers' statement received what could best be described as a lukewarm reaction.
Political science professor Dr. Sheila Fenny described the plan as "out of touch and, more importantly, out of date," while Ben Denning, a sophomore history major, blogged, "Didn't those come out before CD players?"
With the semester nearing completion, we followed up with Luckington students to gauge the success of the program.
"To be honest, I haven't used it," said Cindy Hu, a freshman majoring in classical studies.
Hu's case seems to reflect the broad student experience, with only 1.3% of freshmen reporting regular use of two or more hours per week in a recent campus survey. Students who indicated they did not use the walkman regularly (nearly 85%) were given an opportunity to explain further. After sorting the data, the top three reasons were, loosely, "I don't know how to use it," "It's embarrassing," and "I gave it to an older family member or friend."
In retrospect, the true beneficiaries of the initiative seem to be local pawn shops.
"It was great," says Gary Thornton, owner of Here Today, Pawn Tomorrow. "[Luckington administrators] came to us and bought us out of Walkmans – or is it Walkmen? Anyway, the profits from those sales alone carried us for several months."
While the President's Office would not comment specifically, a statement was released recognizing the program had "a way to go before being called a success." Plans are in place to revamp the initiative for the 2011 academic year.