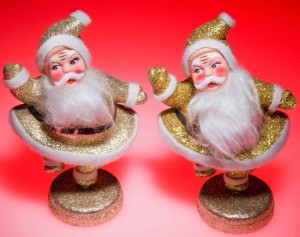 Kurt Pintauro evaded disciplinary action from his supervisor, Associate Dean of Administrative Services Heather O'Houlihan, this week when his holiday decorations slipped through a loophole in O'Houlihan's published expectations of seasonal sensitivity.
O'Houlihan has issued a memo each December, reminding employees of her strict office policies regarding protocol throughout the holiday season. Included in O'Houlihan's missive is a special reminder to Pintauro about hiding the "Rising Star" award he usually hangs above his desk.
This week, O'Houlihan reprimanded Pintauro for placing two plastic Santa Claus figurines on his office bookshelf.
"Kurt has a problem with authority," said O'Houlihan at her meeting with human resources. "He knows I'm trying to make our office a comfortably sterile environment for people of all persuasions. I've gone to great lengths to get rid of all evidence of staff members' individuality and he's flaunted two overtly Christian images for everyone to see."
"I didn't mean any harm," said Pintauro in documentation he provided in the appeal of his reprimand. "I won the Santas in a white elephant exchange at a nondenominational party on campus. I just forgot to hide them when I returned to my office."
"Well, first of all, it's a Caucasian elephant exchange," said O'Houlihan in response. "I'll let the investigators do their job. The facts will speak for themselves."
Upon completion of its investigation, human resources found no evidence of wrongdoing on Pintauro's part and issued its own reprimand of O'Houlihan. According to the report:
We took a careful look at Pintauro's Santas and found clear evidence of homosexual overtones. Given the recent attention to GLBT sensitivity and bullying issues, we find O'Houlihan's banning of the gay Santas hypocritical and in stark contrast to her personal social justice crusade.
Since the report was released, staff members in O'Houlihan's office have decorated their offices with African American snowmen, amputee wise men and Down syndrome elves.
"Thank goodness for Kurt," said one employee. "By teaching us to combine religious symbolism with secular underrepresented groups, he's taught us to be extra sensitive."