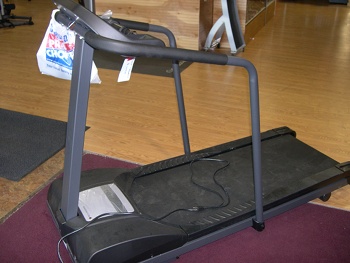 Staff at the Knox Athletic Center at Landry College are carefully preparing for the fitness center's favorite annual tradition.
"It's like getting ready for a solar eclipse," said Ernie Yednich Landry's athletic director. "It only comes around once in a while so we have to treat it with the reverence it deserves."
Professor Merriman visits the Knox Center the first day of classes every January.
"She checks out a towel, spends a few minutes cursing at the treadmill while she tries to figure out how it works and then showers before leaving," said a student worker who has witnessed the Merriman tradition twice. "Sometimes she says 'See you tomorrow' when she leaves. It makes us feel like next year will come sooner."
"It will feel weird when I graduate next year," said a student assistant in the workout center. "Anticipating Dr. Merriman's visit is kind of like waiting for Santa or trying to sleep before the first day of school. Giving that up is like giving up a piece of my youth."
Merriman is modest about the ritual that bears her name.
"I don't know what you're talking about," said the humble professor. "I'm very busy, but I'll be back at the gym as soon as my schedule lightens up. I love staying fit."