by Evan Brews
Freelance Writer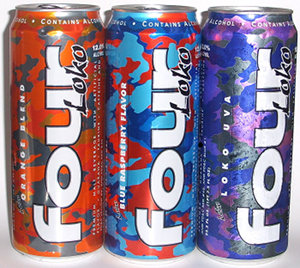 Officials at Harthington University in rural Utah have begun to undertake a study to assess the positive economic impact of having Four Loko as the sole beverage option on the cash-strapped, liberal arts campus of 500 students. Original estimates show that switching all campus beverage options to Four Loko could increase campus revenues as much as 56 percent.
According to Chief Financial Officer, Cheri Cartspy, the financial predictions are very promising.
"Projections show that revenue rates can be increased upwards of 28 percent with the proposed plan," said Cartspy. "By limiting what students can buy to a very economical choice we are in essence giving them more discretionary income which can be spent on increased tuition costs. It is a win-win situation for both staff and students."
When asked about the plan, students were unanimously in support.
"That's really all we drink anyway," said freshman Jerod Thames. "Having it as the only beverage will show that the campus is really listening to our voice."
Senior David Proctor expressed disappointment that he would graduate before the new beverage policy took effect.
"I used to spend three hours a week crossing state lines to get Four Loko," said Proctor. "It's my favorite beverage and it gets me through the day."
One of the strongest proponents of the plan is Director of Waste management Wayne Trundle. When asked how he sees Four Loko's potential, he says the answer is easy.
"Have you seen the size of the cans?" asked Trundle, who also pointed out that, with existing recycling agreements his net distribution to the campus fund could reach two million dollars.
The thought of outlawing other drinks on campus has brought up concern among some administrators. They fear that students will try to sneak contraband beverages on campus, undermining the proposed plan and its ability to make money. In an effort to curb the presence of other beverages campus officials have asked businesses close to the campus to discontinue the sale of such items as Tab, Zima, Pepsi Clear and wine coolers.
News of the college's new plan has raised concerns about the legality of the decision since Four Loko has been banned in a number of states including Utah.
"We're a private university and we don't follow trends. We set them," said Harthington President Marnie Wade, who previously worked for a nonprofit agency that educated the public about the dangers of vaccines in relation to autism. "By losing our accreditation last year, we showed that we are a completely independent. The government wants to kill our innovative spirit but we've cut ties with them so we can operate above the law."
"Students spend too much money on overpriced Starbucks and booze companies that prey on college campuses," said Wade. "We've found a cost-effect drink that will save students from themselves. You could say we're their guardian angels."