by Barbara P. Murphy
Freelance Writer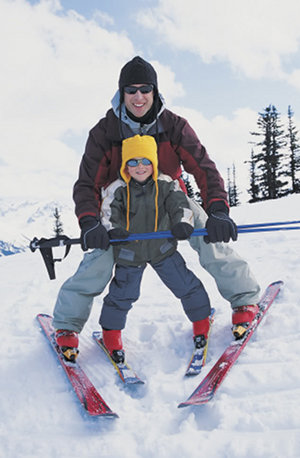 A recently formed bargaining unit at South Springfield State University known as the Core Residential Administrative Network Coalition, which represents staff members who live full-time in campus-owned apartments, added another inequality to their growing list of complaints: snow days.
South Springfield closed last Tuesday as a result of 2.5 inches of snow. SSSU President Morgan Jennings cited local K-12 school closings and optimal sledding powder as reasons for closing the university.
"We have a lot of employees who would have to find daycare alternatives or take a vacation day and we just don't think that's a fair position for us to put them in," said Jennings.
Essential personnel were required to report to work if possible, and several SSSU live-on staff members reported being "called out" by their supervisors when they did not respond to emergency situations or determine a crisis on-call schedule for the day.
CRANC representative and respected Residence Hall Manager Berg Norman stated, "Just because live-on staff members don't have to travel to work doesn't mean they're not entitled to the same days off as drive-in staff members. We're the first responders to most campus emergencies and this has been a rough year and we were looking forward to a snow day."
Residence Hall Director Traci Keane said, "I knew someone should be covering duty but we hadn't planned for it so I ditched my cell phone and went sledding. If they can't reach me they can't pin me with duty, right?"
Director of Residence Life Steven Guthrie was responsible for "calling out" the staff.
"We had a serious student crisis," reported Guthrie, "and while I can't discuss specifics it was clear that none of our live-on staff members were on campus or available to handle it."
Guthrie said that while no formal disciplinary action was taken, a staff meeting was held to determine protocol for future emergency university closures. This protocol is what led to the CRANC coalition getting involved. A petition overwhelmingly supported by live-on staff members included signatures from 13 residence hall directors, 9 residence life graduate assistants, and 2 supervisory area coordinators. The petition outlined the group's requests, which include compensatory or "comp" days for snow days worked. The group also noted that they would prefer for their comp days to be scheduled during better weather, as being stuck in their buildings by snow and ice would hinder their freedom to fully enjoy the time off they deserve.
Additionally CRANC is requesting that individuals required to work snow days receive a per diem allowance since free on-campus dining options (a perk of live-on jobs) are limited due to reduced personnel. Other items on the CRANC coalition agenda include university-provided day care during night and weekend duty hours, daily cleaning service for staff apartments, meal plans for pets and construction of a secured parking garage for live-on staff members.