by AJ Marshfield
Freelance Writer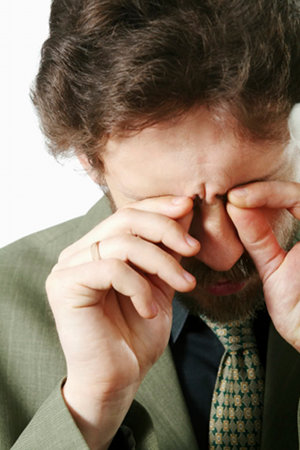 As Angela Hammond stared out the window of her office onto the cold, bleak, gray campus, she heaved a heavy sigh. "There's just nothing funny. Nothing."
Hammond, one of the top freelance contributors to the popular CronkNews.com, has hit an icy, slushy, annoying wall of writers' block.
"Typically I block off 3pm to 5pm every Friday afternoon for professional development—reading, writing, researching," the assistant dean of students said in an interview last week. "But lately I've taken to shutting my blinds, curling up under my desk, and falling into a state I can only describe as 'comatose.'"
Student affairs expert Norm Watson said in a phone interview on Monday that this is perfectly normal. "It is understandable that college professionals such as Ms. Hammond are experiencing this malaise. The excitement of orientation is long past. The traditions and spirit of homecoming are but a memory. All that's left for the Dean of Students Office is meeting with students who still don't understand that 21 is the legal drinking age. All that's left for housing professionals is to be in week-long interview sessions for next year's student staff. All that's left for professors is to deal with students who are mainly just texting through class until spring break comes along. It's no wonder there's nothing 'tickling the funny bone.' This shit isn't funny. It's backbreaking and soul-crushing."
Hammond produced a document she'd begun working on over the break, before the semester started. "I've got the title, a couple of notes about some funny one-liners, and then…nothing," she said. "I think I had a good ending but it got blurred out from tearstains when I started weeping after looking at my calendar for February. Nothing but eight-hour-long webinars and policy review meetings. Oh, God, it's all so hopeless."
Residence Hall Coordinator Joyce Seaba had a similar reaction. "I'm known as the 'staff clown' on our professional leadership team. I'm pretty optimistic and always have some witty way of looking at the stuff we deal with day-to-day."
"Not freaking anymore," Seaba sighed, looking through e-mails she received a day earlier regarding hall opening in August. "This entire semester is about preparing for fall. There's no time to be funny. What the hell is funny about a two-hour meeting in February to decide what kind of cookies we should provide to parents in August?"
Desperate for something to distract her from unanswered memos and "refresher training" schedules, Hammond logged on to CronkNews. "Maybe it will help if I just read some other people's writing for inspiration."
Currently, however, the CronkNews site is displaying an error message, stating that it is temporarily closed due to server overload from an onslaught of higher education professionals and freelance humorists desperately seeking a reprieve from the winter doldrums.
[Editorial Note: Bravo to writer AJ Marshfield for creating metahumor in her search for humor. Bravo to all of you academic soldiers in one of the toughest parts of the academic year.]