by Erica Price
Freelance Writer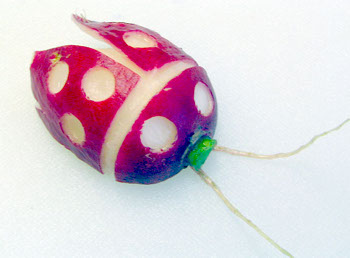 Headlines of budget cuts, hiring freezes, and elimination of academic and co-curricular programs paint a desperate picture of Porter State College in Waterville, Maine. As a result, President Avery Michaels knew she had to start paying closer attention to the impact of these cuts on campus life.
Declining quality of food and soaring prices in the dining halls were some of many complaints on the minds of so many at PSC. When asked about the runaway costs of dining services, Director of Auxiliary Services Joanna Kruger said, "I do my best at negotiating quality improvements with our dining services representative every time their contract is up for renewal. The fact that it hasn't been up for renewal in the past 16 years isn't my fault."
Enter Sheila Moran, food stylist.
Vice President for Finance David Meyer said, "I recruited Sheila to save the college money. She helped us to curb unnecessary expenses in food presentation such as expensive plates, extra side dishes or wasteful things like trays. Hiring a food stylist professional like Ms. Moran helped us to save money and keep the morale higher for students in the dining halls. She has simplified our garnish ingredients and the meals still look amazing."
Moran received the Porter Pride award at a recent awards ceremony for saving the college a total of $24,000 in costs over the course of this fiscal year and is also known regionally for artistic work with the carved radish.
When interviewing students on campus about the new guru of garnish, freshman Taylor Hart was nearly giddy while stating, "My turkey sandwich used to come with a pile of pickle chips on the side just thrown on. Now, it comes with just one pickle chip but the pickle is made to look like Justin Bieber's face. It's amazing!"
Sophomore Alex Dugan was less than dazzled by Moran's way with radishes. "I transferred here to be an economics major but then found out the department was cut. I then find out we have someone hired to manage the food garnish? Show me the spreadsheet that tells me this is a good use of money."
The Waterville Times recently published salaries of all public college and university employees at PSC. Moran is listed at $65,000 per year.
"I wonder what they teach the students in Accounting 101 here about 'garnished wages,'" said Dugan.