by I.M. Knott-Tawkin
Freelance Writer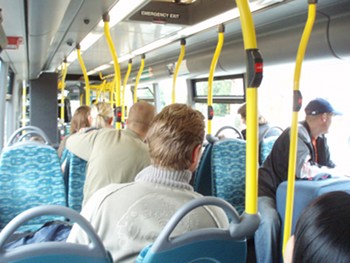 In a continuing effort to balance the state budget, incoming Governor Jane Kossack has announced a new cost-cutting benefit available to the state's higher education institutions. The "adjunctivan" will circle the state, bringing qualified faculty members to remote locations, much as the bookmobile used to bring books to rural areas.
"I nixed the rail system that the former governor wanted because it would have incurred exorbitant costs by the state," Kossack said. "I've got something simpler, cheaper and available right now."
It is expected that the auto emissions of adjunct faculty earning upwards of $10,000 per semester, teaching four courses at four campuses, will be reduced. Using the adjunctivan, pollutants created by long-time faculty like Liam Zunshine will diminish.
Zunshine hopes to double his typical course load, from six to 12 courses per semester without the hassle of driving anywhere himself.
According to Kossack, greenhouse gases will subside and adjunct faculty will finally feel the sense of community in the van that they have longed for.
"I have begun practicing the words to 'The Wheels on the Bus,'" Zunshine said. "Next, I will learn the alma maters of all the state colleges. I'll have a lot of time to bolster my skill sets on my 375-mile commute."
Sales of fast food restaurants across the state are expected to rise and student groups have expressed excitement about having their faculty arrive in a shiny new vehicle. Conferencing with students, sometimes difficult for adjunct faculty due to space limitations, may take place on grassy hillsides and the space immediately outside the van. Fold-up card tables and chairs will allow for additional flexibility.
The state intends to pick up the cost of the van 100 percent in exchange for what Kossack calls "a minor tweak." Every participating college must begin dismantling its tenure system, in its entirety. "If it takes 20 years, we will do it," Kossack promised.
Apparently that process has already begun. Kossack explained that the adjunctivan legislation, rushed through both state house and senate, had small print that no one bothered to read. It allows the governor or her/his designatee, through executive order, to begin a gradual elimination of any and all tenured faculty, citing the state's state of fiscal emergency.
When asked about this, senior faculty member Emma Ostrich at Grummling State College said: "Never. No way. Nada. She can't do that. I'm going to bring this up at the special faculty announcement meeting the president just scheduled."
Still, adjunct faculty are optimistic about the transition.
"Who knows? I've always loved to travel. We may not be back home for the next sixteen weeks–or even over the summer–if neighboring states follow suit," Zunshine mused. "Maybe we adjuncts can earn $100,000 a year after all. This is actually less time-consuming than finding a parking space on most campuses."