by Erica Price
Freelance Writer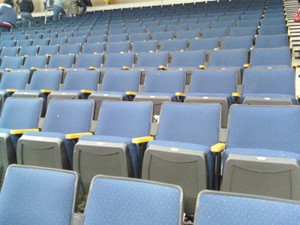 Parents and students at Schafer University will need to put their graduation celebrations on hold for another week.
The annual winter commencement exercises have been rescheduled, according to a press release issued by the SU Office of Communications. This change is due to a revarnishing of the auditorium seats as part of the year-long renovation project in the Harrison Student Union.
Michael Schilling, director of facilities states, "This project is extremely important to the renovation schedule for the building. I was asked to put a schedule together and this is what I developed. The conflict with commencement is a shame, but these projects need to happen and we need the rest of the university to understand this. We didn't get voted 'Montana's Cutest Campus' by delaying these project for campus events."
Sheila Bringle, coordinator of academic special events, noted her frustration with the situation. "Students and their families have planned this special day so far in advance that rescheduling, with two weeks to go, seems ridiculous. However, we have no choice because Facilities needs these seats revarnished immediately. It seems I should have asked them for permission to hold commencement at its already-scheduled time. Clearly it was my oversight."
The change in date means that Schafer will need to find a new commencement speaker. Their originally scheduled speaker is not available on the new date and the Commencement Committee is frantically searching for a replacement. Senior Class President Ashley Farmington commented on their new "A list" of choices. "Our location in Montana really limits our choices, but at least one member of the 1995 'Road Rules USA – The First Adventure' cast members lives near here now and we were relieved to find the website for the All American Speakers Bureau to provide us with some ideas.
Not-quite-graduate Miyuki Kitamura had some choice things to say about the rescheduling of the ceremony. "My parents flew halfway around the world to attend my graduation and now they have to wait a week?" said Kitamura. "I can't have my dad staying in my room as we aren't allowed overnight male guests. Luckily, I have him staying in a different friend's room each of the next five nights."
This inconvenience to the graduates and their families is nearly eclipsed by the annoyance of Marilyn Shattner, who lets people park in her driveway each year. "I usually count on the money from graduation parking to buy myself a new dress each year," said Shattner. "What am I supposed to wear to the Rotary Club dinner? Rotten college kids."