by Dash Phillips
Freelance Writer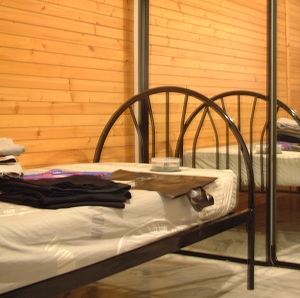 Students are reeling today at Rehoboth Flats College over the expulsion of Botany major Aaron Marks. Marks, vice president of the Inter Residence Hall Government (IRHG) was overheard using the word "dorm" during a recent IRHG meeting.
"I was walking by the lounge doing my daily RA bulletin board safety inspections when I heard Aaron use that word," said Alana Jenkins-Norbert, residence hall director. "I was shocked – and outraged. Aaron knows better. We've trained him to know better!"
According to witnesses, Jenkins used her on call radio to find out the location of Adam Terhune, director of residence life. Via telephone Jenkins explained the situation to Terhune.
"I was mystified by what I heard," said Terhune. "In this day and age, one of our students, using that word? I immediately contacted the dean to arrange an interim suspension."
Press reached Dean of Students and Developmental Services Chloron Davis, Ed.D. for comment at the Student Center where she was sitting in the Inter Greek Council's dunk tank fundraiser.
"I will not allow someone to refer to our residence halls as 'dorms' – doesn't this student know that a dorm is a place where people sleep? Our students do much, much more than sleep in the residence halls at Rehoboth Flats College," Davis said while toweling herself off. "Why, there was an ice cream community citizenship builder last night in Aaron Marks's residence hall. I challenge you to find me a person who can make their own sundae while sleeping," she added.
The interim suspension was authorized and Marks was immediately moved off campus.
Prior to today's hearing, Gordon and Annelouise Marks, Adam's parents, arrived on campus with their family attorney.
"Adam has always been a wonderful, special boy with a beautiful soul," said his mother. "I will not allow this college to treat this unique person in so brutal a manner."
Adam's father said, "I am not sure what the hell is going on here – I went to college and we called it a 'dorm' all the time. I don't understand what Adam did wrong. Besides he's an extremely bright, overly industrious boy. Why, he got a 2.8 this past semester while working a part-time job 8 hours a week!"
Marks asked his parents and their attorney to wait a moment prior to entering the Residence Life office for his hearing. He had a prepared statement for the anxious crowd waiting by the doors.
"I used the wrong word. I denied what I was taught by my residence hall director. It was ignorant of me and I apologize to all the residence life staff people at Rehoboth Flats College and around the world who were hurt by my offensive language. I hope the college will give me a second chance. I promise to never, ever use that word again."
After a rather quick hearing Marks was expelled from the college.
In a statement to the media regarding the decision, Maribel Longwood Gonzales, director of community life and citizenship standards said, "Our role as a liberal arts college is to allow free discussion; however, that discussion must be civil and not offensive. There is a limit to what we will allow our students to say as we teach them how to think. Our hope is that Mr. Marks will be more careful with both his language and his thinking in the future."