by Skye Kopfgeschlagen
Freelance Writer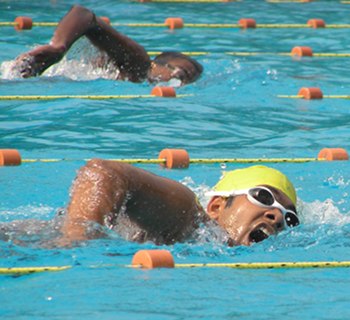 After a miserable showing at Nationals, the men's swim team at Harmony University decided to change tactics and start the first all-men's synchronized swim team.
"We come from the generation that refuses to accept failure," said team captain Chad Snook. "We're innovators and we saw a chance to win something!"
As the only NCAA team competing in the category, they have been unchallenged all season and remained at the top of their newly chosen sport.
"This stuff ain't easy, you know," said Ruark Beauchamp. "You can't touch the bottom and sometimes you gotta hold your breath for a really long time!"
When asked what he likes most about synchronized swimming William Shannon replied, "Ballet legs. I know that sounds kind of, you know, but I like them. It flatters my musculature."
When Harmony's team initially entered competitions they met with resistance. As leaders of Harmony's nationally ranked women's team, Brittany Smith and Melanie Bartlett expressed displeasure with the all-male group arguing that this was one of the few sports managed by and created for women.
"Like, I can't believe that these guys think they can water dance better than us!" said Bartlett. "They have all the other popular sports. Why can't they leave us synchronized swimming?"
Harmony may inspire other schools to adopt sport-swapping when teams confront failure. The men of synchronized swim team hope so. At first, the decision was met with disbelief and a few members left the team to join the water polo squad, but most decided to give it a shot and their all.
"We were raised to expect a trophy at every competition," said one Harmony team member. "In college sports, only the winners receive credit for the victory. That's a total rip off after all the tuition we pay. We just found creative way to get fairness."
Coach Riley Commodore stated in an interview, "I think this gives the men an opportunity to express themselves in another way and has been a truly eye-opening experience for me and the whole team. This is exactly the reason Title IX was invented. It's really given us an appreciation for the little ladies on the girl's team."