by Jeremy Sly
Freelance Writer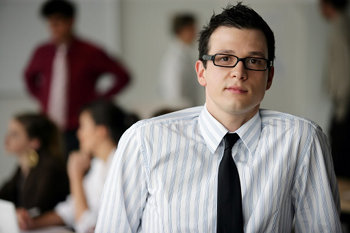 In a shocking series of events, Graduate Assistant Randy Forsmith has declared himself eligible for the upcoming 2011 Hall Director Draft, choosing to skip his remaining year in a quest for riches and stardom. The Breslin University graduate hall director has been labeled a hot commodity in the student affairs world, but few expected him to declare this early.
"Honestly, I'm shocked," says his current supervisor and hall director Shelly Mays. "Don't get me wrong, Randy is wonderful. But he's only a first-year grad. He really could benefit from another year of graduate school."
During the two-hour press conference held inside of Granderson Hall's Multipurpose Room, Forsmith explained the reasoning of his surprising decision, saying "After talking it over with my family, this is the best decision for me. While I had to explain to them again the actual nature of my employment and that I am not just a 'big boy version' of an RA, I was able to convey my true desire to leave school early and begin my professional career as soon as possible."
While his parents were not immediately available for comment, his brother Adam explained, "Um…I mean…he always talks about like, being a dean or something. I thought he meant he just wanted to change his name to Dean. I don't have any clue what a 'student affairs' is. Does that mean, like, you're sleeping with them? I don't get it."
According to the latest Mock Draft, Forsmith is a projected mid-to-late first round pick. Mountain Valley Community College and Triton University, whom are both in strong need of hiring a male hall director, have reportedly been in contact with Forsmith to schedule interviews for the upcoming Placement Exchange national recruitment fair. While many consider Forsmith too young to be considered a full-time director, his astounding statistics speak volumes for his work ethic. Over the course of eight months, Forsmith has supervised over 40 hall council meetings and events, assigned alcohol education classes to over 30 residents, and has made 64 female residents cry during judicial meetings, a Breslin University record.
With the news reaching Forsmith's residence hall on Thursday, resident assistants held mandatory emergency meetings to discuss the decision with building residents. Though many of the RAs were in disarray the residents had other emotions.
When asked about Forsmith's departure, Sophomore Elementary Education major Allison Farrington replied, "Who?"