by Erica Price
Freelance Writer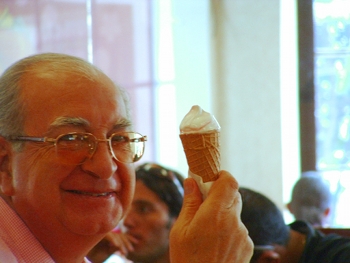 Rave reviews from the National Association of Student Personnel Association's (NASPA) recent "Institute for Aspiring Senior Student Affairs Officers" conference have inspired a different group of student affairs administrators to consider some different professional development initiatives.
The newly founded "Gold Watch Institute" will be held this coming April in Jacksonville, Florida. The new program grew from a vocal coalition of members of NASPA expressing concern that with the high turnover rate in the field of student affairs, it was time to visibly promote a message that supports more long term employees at various institutions.
"We're just tired of these cut-throat, ambitious, status-seeking types" says Jack Richardson, coordinator of the new higher education institute. "They're always looking for the next step. Why not be happy where you are?"
The organizing committee plans to distribute their "It's OK 2 Stay" buttons as a form of peaceful dissent at the upcoming Placement Exchange professional recruitment conference and the official launch of their new program. The public relations campaign features Maggie Hahn, t21-year development assistant at Shoreline Community College in Terre Haute, Indiana. When asked about her decision to not even seek potential new opportunities she said, "In today's economy there's not a lot of extra money in the bank account for things like interview suits. My suit from twenty years ago doesn't fit anymore and I have other priorities than buying a new one. So, I stay."
Keynote speaker for the Institute has been announced as Mr. Kenneth G. Boltonne, who has served as Career Services Coordinator at Keshaw State University in Illinois for the past 32 years. His presentation, entitled "Stick Around for a While, You'll Learn Something" will highlight benefits of long term employment in the same position for so long. His tales of skillfully memorizing the catering guide for campus event planning and use of the same box of business cards for multiple decades is certain to inspire more employees to settle down.
The Institute will also honor Jack "Coach" Spaulding with the coveted "Deep Roots" Award for institutional service. At 64 years old, he is the oldest serving residence hall director in the student affairs profession. When asked for his reaction to his recognition, he said "When I started as the assistant basketball coach all those years ago I had no idea what student affairs was all about. They moved me over to the RD spot after realizing I didn't know anything about basketball and that they shouldn't have hired me in the first place. Who knew I would love it this much?"
Follow the preparation for the new Institute and feel free to join the dialogue on Twitter at the hashtag #stayput11.