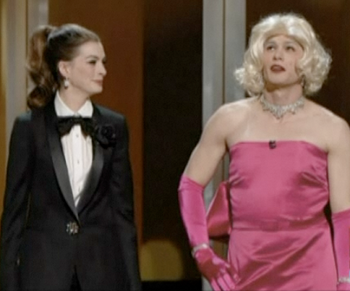 In a controversial last-minute decision, the planners of the annual conference for the National Association of Student Personnel Administrators (NASPA) have replaced scheduled keynote speakers Donna Shalala and Robert F. Kennedy Jr. with actors Anne Hathaway and James Franco.
"We've always been considered the old fogey higher education organization," said one member of the planning team. "We're now considering a consolidation with the younger, hipper American College Personnel Association (ACPA) and we need to do everything in our means to show that we're cool."
Shalala and Kennedy, both known as engaging, intellectual presenters, were not household names among graduate students or new professionals surveyed last month.
"They just weren't cool enough," said a hipness consulting group hired by NASPA to write a special report. "We tried to convince them to hire Lady Gaga, but their budget couldn't handle the price tag and they said they could rationalize that Hathaway had spent some time in college and Franco had earned a Master's degree."
At press time ACPA intended to go forward with its original conference keynote speakers Cory Booker and Morris Dees later this month.
"It's tempting to switch. We were offered a half-price special after Franco and Hathaway's hosting duties at the Oscars were such a disaster," said an ACPA representative. "They really sucked and they don't really do anything to make the world better, but they are movie stars."