Matthew Michael
Freelance Writer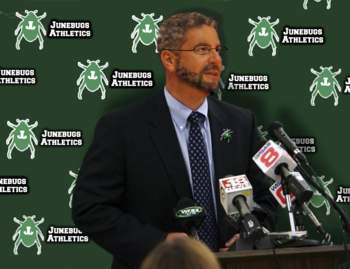 Junetown College (FL) has fired their social science department head, Bryce Pearlman, after a disastrous 47 point loss in the school's first appearance in the NCAA Men's Basketball Tournament.
In a statement released on Tuesday, Jim Pearlman, Bryce's older brother and Junetown's athletics director, said violations of university policies had led to a "reassessment of the direction of our men's basketball program," whose players are all majoring in the Department of Social Science.
"Dr. Pearlman has served this institution well since being named founding head of the Department of Social Science in 2009," said Director Pearlman. "Unfortunately, his recent decision to schedule classes during reserved practice time has caused severe strain on our players resulting in last week's embarrassing loss. It's time for the Junetown Junebugs to move in a new direction."
The clustering of student athletes into a handful of majors is a documented problem at universities and has caused institutions to reexamine their practices regarding the admission of student athletes. Junetown administrators have been especially cavalier in their response to the clustering problem.
"When that study came out in 2008 showing we still had a handful of students majoring in chemistry, philosophy and literature, I realized why the Junebugs hadn't seen much success on the court," said Mike Pearlman, cousin to the aforementioned Pearlmans and head coach of the men's basketball team. "You can't focus on winning if you're worked up about difficult papers, tests and class attendance."
The Junebugs athletics department moved all men's basketball players into a newly created social science major in 2008 citing studies showing that close-knit learning communities improve academic performance. Coach Pearlman noted that this move caused rumblings among the faculty who suspected the new major was focused more on keeping struggling students eligible than on advancing learning.
"It took a while for professors in other departments to catch on to the idea," Coach Pearlman noted. "But then we promised this move would ensure that no Junetown faculty would ever again have a men's basketball player in class. The faculty senate unanimously approved a resolution in favor of the new social science major."
According to the department website, the social science major is designed to be interdisciplinary and draws heavily from more traditional disciplines such as sociology, political science, communication, telecommunications, broadcast communications, communications media and physical education. Additionally, the site promises basketball recruits that all of their classes will audited online and scheduled between the hours of 1:30pm and 2:45pm, so as to not interfere with students' practice schedule and their independent study of "The Science of being Social."
Athletics director Pearlman promised to find a replacement quickly for the department head position and was promptly appointed to chair the search committee by his uncle, the long-serving provost at Junetown College. AD Pearlman has assured players the new department head will strictly adhere to scheduling classes in the designated one hour, fifteen minute time block.
NCAA officials have expressed concern that the Junetown athletics department might be doing too much promoting from within, leading to a continued culture of low academic expectations. AD Pearlman has reassured these officials that the social science department head search will be a completely open and transparent process.
"We're conducting a national search," he said. " I've got family throughout the Midwest and the West Coast."