by Aloysius St. Bernard
Freelance Writer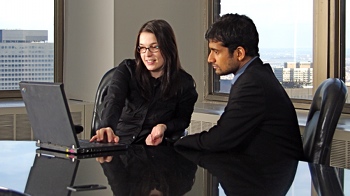 With decreased funding, a lack of employer support of campus job fairs and doubts about the necessity of hiring career specialists to provide advice, colleges across the country are closing their career centers.
Dr. James Smith, an analyst with the National Organization of Careers & Univerisities, spoke of this trend in his recent speech at Downey University.
"Today's job seekers are increasingly skeptical about the need for professional assistance, in part due to the so-called 'personal branding' phenomenon capturing the attention of the millennial generation in particular," said Smith. "We live in an age when technology and social media have made it possible for individuals to create complex and highly personalized 'brands' and seek work compatible with their interests."
Smith suggests that today's job seekers are less likely to accept constructive criticism from people who operate within traditional institutions, whom they view as willing to compromise their personal brand by subscribing to the values, goals and mission of an institution.
Says Smith, "It's really difficult to tell today's job seekers anything so many schools are choosing a wiser route: they're just not going to try anymore."
Peyton Randolph University senior Alan Grimes exemplifies the job seeker Smith referenced. Grimes, a marketing major, has never visited his campus career center, which is one of many that expanded services and improved facilities.
"I mean, I never really saw the freaking point [of visiting the career center]," said Grimes. "I read Me 2.0 by Dan Schawbel, and it totally changed my life. I set up a blog, a LinkedIn profile, a Brazen Careerist profile and a Twitter account. I untagged all of the incriminating pictures related to my Facebook profile and I changed my privacy settings just about everywhere. Those things, and a video résumé that is totally off the hook, ought to be enough to give employers a good idea what I'm all about."
Jill Snelsire, director of career development for PRU, expressed disappointment in attitudes like Mr. Grimes'.
"These kids don't see the value in some very basic things like interview skills, networking, evaluating job offers and basic job seeker etiquette," said Snelsire. "And don't get me started about résumés. They just don't get it!"
Snelsire seemed somewhat resigned to the demise of her chosen career path.
"There seems to be more money in creating career-related information products and e-books than in actually helping people one-on-one," she said. "I've decided to roll out a membership site and sell résumé templates online. Visit me at www.jillsnelsirerésumés.com and be sure to sign up for my three-part e-course on using Twitter to network and promote your personal brand."
"Yeah, whatever!" replied Grimes "Jill certainly seems to be taking this personally, but come on! It's not like this stuff is rocket science. I've learned quite a bit about job-seeking from random people outside the career center, like my RA, RD, and even the custodian. Anyone who's ever had a job can tell me the basics."
Grimes is not worried about the quality of his résumé, interview strategy or negotiation skills.
"My mom put together a really killer résumé that highlights my interests and past jobs," he said. "And she's agreed to come with me to my interviews and to handle negotiations once offers pour in."
Until then, Grimes plans to spend his time at home with family, and work on his blogs and social networking strategy. He's also writing a book, tentatively titled It's a Gift to be Awesome: The Alan Grimes Method for "Crushing It" in Your Job Search with Social Media, which he plans to self-publish.