by M.E. Holiday
Freelance Writer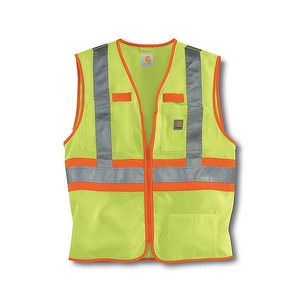 While in Baltimore scouting out potential design challenges for the next season of fashion reality show "Project Runway," co-host Tim Gunn unexpectedly found a new task for contestants.
"I was in the Inner Harbor and saw multiple people in heinous green vests. At first I thought Walmart had changed the color of its greeter uniforms but then I learned of something called the 'Career Central (C3) staff member,'" said Gunn.
No stranger to higher education, former dean of the Parson's design school Gunn observed that the vest shape flattered neither men nor women and the color resembled a dirty dollar bill.
"I know these candidates are not in education for the money, and blue is a an appropriately soothing color," said Gunn. "The more natural hue will complement the feelings educators will have years down the road when their MBA classmates live more regal lifestyles while they are still trying to find jobs that provide a cafeteria supplement."
After hearing that the 2012 placement conference will take place in Louisville, Gunn saw the possibilities for the scope of this "Project Runway" task. He announced that contestants will design derby hats for C3 volunteers inspired by the hats adorned by women attending the Kentucky Derby.
"This type of accessory will not just be a way for candidates and employers to identify conference staff, but will also inspire candidates to showcase their individuality in interviews. We will make this work."
So as to not be outdone by ACPA, a spokesperson for NASPA's conference has announced that its 2012 placement fair in Phoenix will include fashion designer Issac Mizrahi as a consultant for redesigning the TPE staff attire.
According to Mizrahi, "I'm thinking of something in a pancho."