by Schubert Lovenkraft
Freelance Writer
College officials have confirmed that yesterday's mysterious campus-wide tremor was likely caused by a sudden horrified gasp from senior faculty at an afternoon Faculty Senate meeting in Old Main. Seismographic readings from the Geology lab in Shaffer Hall traced the source of the tremor to the center section of seating in the Old Main auditorium. Meeting minutes from yesterday's Faculty Senate indicate that seconds before the tremor occurred Dean Flannigan had announced that, due to budget constraints, the cost of faculty parking passes would increase by five dollars.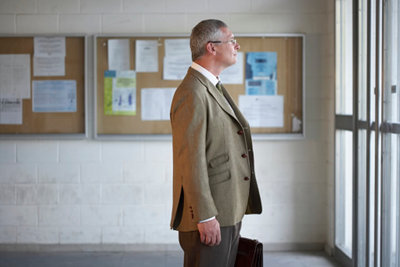 The first campus quake on record rattled windows and toppled bookshelves throughout the freshman quad, wrongly causing many students to flood campus security phone lines with complaints of loud music coming from "that transfer kid's pimped out Escalade."
When reached at home for comment, Dr. Igor Oburditopski, Faculty Senate Chair and Professor of Visigoth Languages, defended the outcry. "This is about academic freedom. If the administration can control our parking habits they will begin to control our driving habits. If they control our driving habits then we as educators have lost our soul."
Residence Hall Directors spent the day assuring students and their parents that each of the buildings on the quad had been constructed to withstand localized seismic events and that the chances of an aftershock were slim.
"Our new real-time satisfaction assessment dashboard suggests that our students have mostly moved through the critical stages of grief," said Kirsten Fuglestad, Associate Director for the First Year Experience. "We had them do some reflective blogging with their virtual mentors and then tweet about it. This has actually been an amazing bonding experience. They're all just so resilient."
Vice President of Facilities Joe Johnson also announced today that, as a precaution, Old Main would be closed for comprehensive structural testing. Meanwhile, Faculty Senate plans to reconvene later this week to consider hiring additional support from the Geek Squad during the email conversion to Google. If the weather holds, the meeting will likely be held outside.