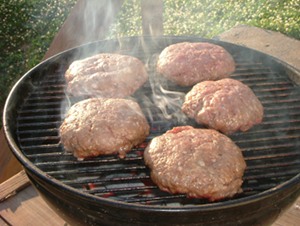 Following one of the most heated sessions in Staff Senate history at Forest Springs University, representatives voted to change the menu of the annual faculty/staff picnic from the traditional hamburger/hot dog spread to grilled chicken.
"These are decisions that can't be taken lightly," said librarian Clara Scully, who represents the pro-hot dog voting block. "I feel like we were bullied into voting before we had fully explored all the potential ramifications of the change."
"This vote impacts a lot of people," added Jeff Crane, from computing services. "Some people say that since Faculty Council makes decisions about curricula, policies and institutional budgets, we aren't as important. We have a lot of authority, too, and we can't abuse our power by acting rashly. Voting without fully studying the issue would prove our critics right. In this case, I think we exercised due diligence."
According to anecdotal data, votes were split along generational lines.
"I'm happy about the chicken decision," said residence hall director Amy Krueger. "I think the younger staff will appreciate the change."
"What's wrong with hamburgers and hot dogs?" asked Randall Clovis, who just earned his 30-year pin for service in housekeeping. "Everyone likes hamburgers and hot dogs. Why does everything have to change all the time?"
"I believe this vote will ultimately lead to reconciliation of not only staff, but faculty and students, too," said Staff Senate chair Leo Morison. "Our ability to engage in lively discourse and compromise shows that we are the true leaders and role models for our campus."