by Josh Bond
Freelance Writer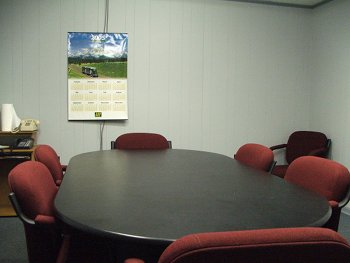 When the new Student Activities Center opens at Atlantic University this fall, there will be no shortage of space for student organizations. An entire meeting room on the third floor will be made available for student use.
"Since the building was funded almost entirely with Student Activities Fee money, we felt it was important that students feel at home in the space," said Vice President for Student Affairs Michael Wilcox.
With a capacity of twelve and a fixed boardroom table in the middle, the Atlantic Admissions Conference Room will serve as the perfect setting for group meetings. The space will be available after 5:00 pm on a first-come, first-served basis.
Original plans called for the campus radio station, newspaper, programming board and multicultural center to move into the space but high demand has led to a re-allocation of resources.
"We're the ones who make sure students are coming here in the first place," said Director of Admissions Carly Parson. "Student organizations wouldn't even exist if it weren't for the students we recruit."
While Admissions will be moving into the third floor space previously designated for the Department of Student Activities, second floor space originally designed as a state-of-the-art student media suite is still up for grabs.
According to Senior Project Manager Robert Ashe, the space will be given to a department that will best serve the needs of the students.
"Likely, Facilities Services will move into the building so that we can provided unprecedented response times if there are maintenance issues in Admissions," said Ashe. "It is also a possibility that Media Relations, Alumni Affairs or Information Technology could occupy the space."
Despite the change in plans, student leaders are upbeat about the improvements being promised to them by Atlantic University officials.
"Dr. Wilcox has promised that they are going to replace the carpet in our current studio," said WATLU General Manager Amanda Beaty. "Thankfully, they are only charging us for materials and we won't have to pay for the labor."