by I.M. Knott-Tawkin
Freelance Writer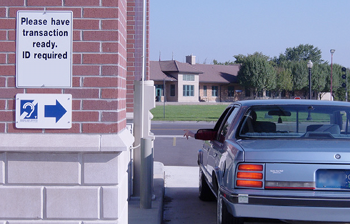 In a dramatic reversal of previous policy and with the help of a generous grant from the International Association for the Promotion of Quick Learning (IAPQL), Hamnet College has announced its new drive-thru program.
In this move, three top problems on campus will be simultaneously addressed: students' reduced attention spans, high faculty costs and limited parking.
"Since our origins in 1812, we have prided ourselves on being the innovators," President Jan Pluck said in a press conference. "We have consulted with leaders in business and a task force of prospective students to perfect our plan. Students will drive up to a speaker and place their order of classes for the semester. In the time it takes to drive around to the pick-up window, their courses will be completed and transcripts ready."
"The internet has revolutionized what and where students can learn," said I.T. operations chief Erik Brain. "There is no reason to extend the learning process one moment longer than necessary."
Clerks, all of whom will be hired on a part-time basis, have been carefully trained to ask questions like, "Do you want grades with that?" or "Does that complete your transcript?"
Students will be expelled from the queue, however, if they attempt to do any additional work or ask for course combinations that do not exist.
"Fast – that's the name of the game," asserted Pluck.
IAPQL believes the college's profit margin will soar and the grant will soon bear fruit—or something resembling it.
Despite concerns raised by the college's now defunct Adjunct and Contingent Faculty Task Force, the newly hired part-time clerks are delighted with the agreement.
"At last, an hourly wage that is fair," P. J. Barney, a new clerk, agreed. "No grading. No preparation. At $7.40 an hour, I am finally being paid what I'm worth."
"This is what college is all about," said incoming freshman Inna Rusz. "I don't have time to waste studying. Anything I want to know is already on Google. At Hamnet I don't have to worry about anything."
A sign announcing the number of credits delivered will assure passers-by that Hamnet College is accountable to the community.
"In this competitive college market. It's all about recruiting and retention," President Pluck said. "We think that we have found the best answer to both."