by Matthew Michael
Freelance Writer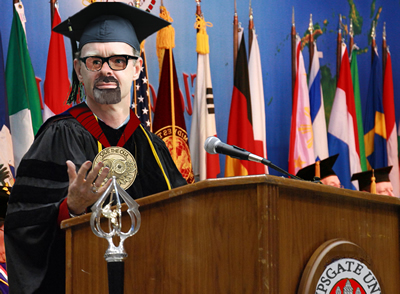 Slipsgate University has announced that this year's commencement speaker is Dr. James M. Parks, a researcher whom few students have heard of and whom even fewer will bother to Google.
Parks plans to motivate the newly minted but unemployable college graduates by sharing his own inspiring story of rising from obscure beginnings to an even more obscure professional existence as the nation's leading researcher in the field of owl cancer.
Parks' mother, Dorothy Parks, revealed that Dr. Parks overcame significant challenges that he will share in his speech, challenges of a childhood marred by social awkwardness.
"Junior high is such a tough time," she explained. "Especially for a kid who is homeschooled and battling crippling agoraphobia and mild autism. Even his teachers made fun of him."
Ms. Parks shared that her son "really branched out socially" when he joined a local kingdom of the SCA (Society for Creative Anachronism) and started reenacting life in the Middle Ages. It was there that he befriended and ultimately lost to cancer, a dear pet owl named Baldric.
That experience launched Dr. Parks on a lifelong mission to cure owl cancer.
Aside from mesmerizing the graduates with the tale of his rise through the ranks of adjunct faculty, Dr. Parks—now a visiting senior lecturer at Slipsgate's Veterinary School—will challenge the graduates to find their own causes to champion in their life's work.
News of the selection of Dr. Parks was met with apathy by virtually all Slipsgate students, with the exception of Kimberly Thompson, a graduating senior and columnist for the student newspaper.
"I'm so mad this Parks guy is going to be my commencement speaker," Thompson complained. "Last year we had Desmond Tutu and the year before that it was Bill Clinton. I realize the budget situation is bad, but is this the best we can do?"
Added Thompson, "I'm just hoping someone in the administration will reassure me that Parks was a Plan B option. Like maybe we had Greg Mortenson lined up originally but then had to improvise when Mortenson started getting all that bad press."