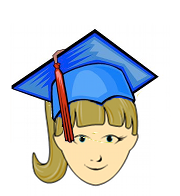 Ever-perky Erica Price wrapped up her 1-year unpaid internship with The Cronk of Higher Education this week and added an M.S. to her name when she earned her master's degree in Higher Administration Curriculum Assessment Personnel Development.
Parents Maeve and Agustus Price gave their daughter a lovely bouquet of flowers with a note, "We couldn't be prouder and look forward to understanding what it is that you do someday."
Erica was hired by CronkNews.com on April 27, 2010 in a selection process that raised questions throughout higher education about the integrity of the search. She has since earned a reputation for a steady work ethic and a chipper demeanor.
What's next for Ms. Price? Erica has interviewed with 67 universities at recent job fairs but will continue in her Cronk intern role indefinitely until something better comes along.