by Irma Pelt
Senior Staff Writer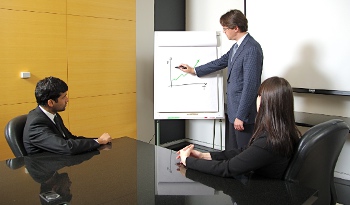 Over the past two years, Tabeart College has posted more than 300 jobs to various higher education publications and search services, including The Placement Exchange and the Chronicle of Higher Education. Noting this unusually high number for an institution that reports having a combined faculty and staff of just more than 700, an investigation was launched by the Fair Academic Recruiting Team (FART).
"After thorough research, we found Tabeart had only seven actually vacancies during that time period," said Drew Hoholik, chairperson of FART.
Hoholik found evidence candidates were invited to campus in lieu of the university hiring consultants to provide advice and guidance on major changes to Tabeart's strategic plan.
"Candidates were asked questions about what programs they would implement if hired, what resources or research they used to guide to their work, and how they assess their work," said Tabeart. "In sum, none of these questions are out of line or inappropriate, but it's what Tabeart did with the information that is shocking."
Every "search committee" at Tabeart was composed of the vice-presidents of the university and, on occasion, the president.
"They took copious notes on the feedback given them by candidates and then used the information to build the strategic plan. None of these people were paid for their work or their intellectual property," said Hoholik.
Tabeart's human resources website outlines the university's candidate travel reimbursement policy. If a job is offered and accepted, the candidate receives full reimbursement. If a job is offered and not accepted, the candidate must encumber the full cost of travel.
"They made the place look so heinous in between these search committee meetings, no one ever accepted a position," said Hoholik. "Not even that desperate guy who goes to every placement event and has been searching since 1996."
Hoholik spoke with candidates who reported being taken to IHOP for dinner the night before their interview or were handed a map and told to give themselves a tour of the extensive campus. One candidate reported being given five minutes to make a decision about the offer, during which Rebecca Black's song "Friday" was played into the phone.
Tabeart's President, Melissa Stalder, refused to comment as she rushed off to a search committee meeting.