by Dexter Woodlawn
Freelance Writer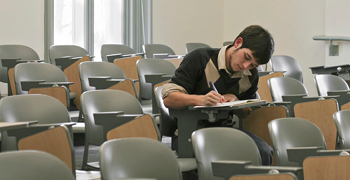 Something is foul in the city of Denmark, CT, and that something is the entitlement of undergraduates. The Teaching Assistant Union of Denmark College recently filed a formal complaint to the Faculty Union concerning the inflated sense of self-worth of the students they teach. "The full-time faculty encourage this behavior by granting grade appeals over the initial grades given by graduate teaching assistants" reads the complaint.
A representative of the TA union, Emily White, doctoral student studying biology, said, "The problem is egregious! A B used to represent good, solid work, and an A was reserved for exceptional effort. Now students want an A just for showing up!"
A national report filed by Sloan indicates there is a trend in grade inflation to be concerned about, and the report cites these statistics as its primary source of support beyond TA anecdotes.
Tension is high between the two unions. The faculty, unsure of how to respond, formed a committee to consider grade inflation of the entire college, graduate education included.
The committee has been given two years to conduct the study, but wanted to give the TA Union some immediate feedback so they graded the writing of the complaint and sent it back. Comments on the report said, "B- as it demonstrates good, solid work. However the report lacked a meaningful literature review, and contained numerous typographical errors."
Ms. White had no comment about the grade of the complaint.