by AJ Marshfield & Darline Hayward
Freelance Writers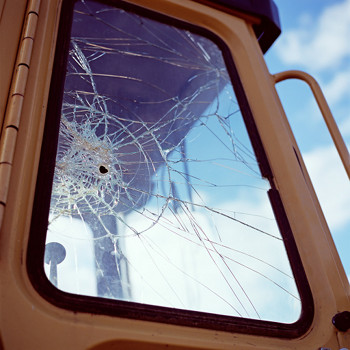 The sound of pneumatic drills has replaced the sound of music blaring out of dorm room windows, and construction workers have replaced the groups of students milling about between classes. It is summertime on university campuses and major facilities projects are underway: improvements that will, within the first fourteen days of class, be completely destroyed.
"This is an exciting time on the university campus. Many people outside of higher education think that summer is a time for campuses to relax and slow down. Not for our office," said Derek Shellman, director of facilities at Morningtie College. "Summer is when we get most of our work done. We have to finish it before students can screw it all up again come September."
Morningtie is one of thousands of campuses refurbishing academic and residence life buildings in preparation for the onslaught of hundreds of thousands of students who will treat them as their own private dumping grounds.
"Besides addressing the obvious repairs and maintenance—such as cleaning layers of dried spit off of desks from students falling asleep in classes—we're also undertaking a two million dollar rewiring project in our academic buildings to install extra electrical outlets in every classroom," said Shellman.
These outlets, Shellman stated, were a response to student demand. Morningtie Student Government voted unanimously that students needed access to outlets so they could charge their iPods and phones that lost precious battery life as they texted and listened to music throughout class. "This will especially help in lecture halls where the longer block classes are held. We're starting there first," Shellman said.
Morningtie is not the only campus making advances in their facilities projects during the summer months. Hardman University, a larger state school in the Midwest, is also looking to complete not only academic building upgrades but also upgrades in their residence halls.
"We are going to be re-carpeting each room and moving in new furniture for nearly half of our halls," stated Hardman's Director of Residence Life Ashleigh Overson. "The money we make from charging students for the torn, stained carpet and completely dismantled or stolen furniture from last year makes it easy to renovate a good portion of our student rooms."
In addition to repairing and replacing current amenities, Overson said the residence halls will have new additions this year. "We're putting trophy cases in every student room. This is to keep up with the overwhelming demand for students to have somewhere to display their countless participation awards from kindergarten through high school."
Overson also said Hall Coordinators spend about $200 per hall each summer on supplies to make "door decs," the decorative door signs each RA painstakingly hand-creates for 50-60 students each August during training. "We'll buy glitter, paint, scrapbook paper, all of that stuff…even though we now call them 'floor decs' because that's where they'll end up after the first weekend," said Overson.
Hardman campus interior designer Lisa Weddle has used suggestions from recent students when deciding how to upgrade the residence halls. She has designed wall paper specifically marketed to residence halls that consist of patterns of tiny penises. When asked about where the inspiration came from, Weddle reported, "The students are always drawing penises in the elevators, on marker boards, in the stairwells and in the snow. It's important for someone in a role like mine to be able to pick up on what the students are asking for even when they do not directly tell me. I think they will be very pleased when they see what we've done with their subtle request."
The improvements are already being enjoyed by incoming students, who are on campus for their first-year orientation programs. "This place looks pretty good," said Michael Benedetti, who is living on campus at Hardman next year. "It looks a lot better than when I visited my cousin here in February. It was a real shithole then."
Custodial and maintenance staffs at Morningtie and Hardman state that even though they worry about vandalism, they are proud of the work they accomplish in the summer. "That looks really good," Morningtie's Donna Nyberg said as she finished dead-bolting toilet roll holders to stalls in one of the ten dorms on campus.
Perhaps one of the most impressive stories of these repair efforts is that of Joshua Rebich, who has been a custodian for Holland Hall during his entire 25 years at Hardman. "I've repainted this same wall every summer," Hardman says, coating primer over a wall near the back entrance with "Fuck you" scrawled on it in black marker. "Every year, they write the same thing and every summer I finally have the time to scrub it, sand it, prime it and paint it.
"It reminds me of that line in J.D. Salinger's Catcher in the Rye: 'No matter where you go in the world, someone will have written 'fuck you' somewhere on a wall.'" Rebich chuckled. "I remember that book from high school and I'm sure these kids do, too. Salinger says you couldn't scrub out half the 'fuck yous' in the world if you tried, but…it matters to this one."
A Holland Hall resident who spoke on condition of anonymity had this response about Rebich's likening of the vandalism to the classic novel: "Who the fuck is J.D. Salinger?"
Despite the seeming student apathy towards these efforts, some are appreciative. "We were passing these guys putting new sod down on the quad outside of the freshman halls," said Benedetti. "My orientation leader was like, 'Yeah, Hardman is great. This is where we have our annual Drunk Slip 'n' Slide and they always put new grass down for us every summer.' I can't wait to go here."
At press time, both universities were 500,000 over budget for their summer facilities projects.