South Beach, FL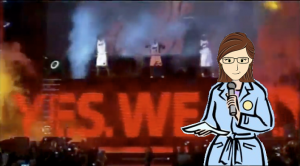 The head writing team from CronkNews.com will announce plans for its first book Required Reading at noon on Saturday June 18, and they've chosen a perfect location.
"I'm flying the staff to South Beach," said Editor-in-Chief of The Cronk of Higher Education Leah Wescott. "It was a no brainer. Miami has had nothing but good fortune over the past year –the same time we were compiling and editing our book."
Wescott refers to the acquisition of "The Big Three" Miami Heat stars who were thought to be unbeatable when signed last summer.
"For some reason, they didn't want to use their press conference room any more this week, so they let us have it for our announcement," said Wescott. "I'm really shocked since they went all the way to the finals their first time together. The whole nation considers that a victory, right? All I know is that I've planned an event that's bound to have all that good luck attached."
Along with the release of their book, The Cronk group will also ask readers to participate in their "Networking Challenge" to help spread the word about the book and the website.
"We're still new and small, and this Big Three needs a whole team of supporters," said Wescott in a rare moment of humility. "We're taking on an ambitious task and it will be impossible with only three stars.We're ready to reward anyone who joins us in the fun."
For more details, tune in to the live audio feed from the press conference.
Saturday June 18
Noon eastern time
blogtalkradio.com/cronknews