by Schubert Lovenkraft
Freelance Writer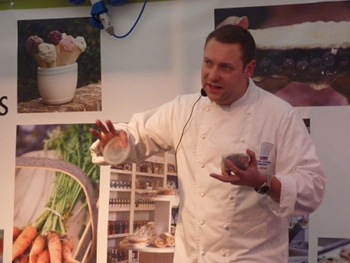 Victor's Surprise, an industry leader in the edible undergarment business, has expanded into the world of convention accessories by unveiling a new line of edible conference lanyards.
"We was talking about ways to expand the family business," explained company boss Joey 'Big Daddy' Gambini. "Then Sal saw these fancy name tags at an after-party in Vegas, and . . . ba-da-bing! Tasty Tags."
Convention goers have increasingly complained about the environmental wastefulness of elaborate nylon conference lanyards utilized by many national organizations in recent years. Some popular conference cities have been forced to dedicate entire landfills to these discarded name badges.
"We are always looking for ways to be more environmentally conscious," said Cherri Bagatelle, Associate Vice President of the National Council of Convention Bureaus. "Who would think that such a great idea would come from such an unexpected place. Our members are telling us that the education sector clients are particularly impressed with the dual functionality of Tasty Tags."
The American Educational Research Association (AERA) has already ordered 10,000 Tasty Tags for their annual conference in 2012.
"The big thing about Tasty Tags is that people don't have to skip a session to eat," said National Conference Chair Hermosa Jones. "They can just snack on their lanyard while they get the most out of every panel. Best of all, they are completely vegan and totally biodegradable."
"We are glad to know that the Tasty Tags will be popular with teachers," added Gambini. "They have been some of our biggest Victor's Surprise customers for decades."
Tasty Tags currently come in three flavors; strawberry, chocolate, and plain – which reportedly tastes just like tofu. In addition, Victor's Surprise has plans to introduce peppermint and ginger flavored lanyards by early next year. "We thought they might be popular at those conferences that have a lot of intensive networking in the hotel bar."