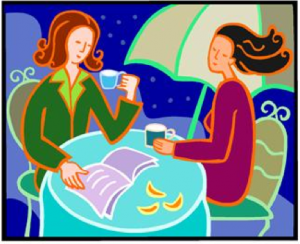 Campus emergency procedures were put in place at Julienne University when Laura Bogan, assistant director of dining services, was seen having coffee with Vice Chancellor Anita Kroft.
"I was suspicious as soon as I walked into the campus café," said Bogan's supervisor Brandy Downes. "What were they talking about? Why did Dr. Kroft want to meet with Laura? Were they talking about me?"
Campus police responded to an anonymous tip and questioned Bogan and the vice chancellor separately. According to the report:
Both women said they had struck up a friendship at a campus book club and met occasionally to talk about their common interest in French Impressionism.
"I don't believe it for a minute," said Downes. "What interest could a vice chancellor possibly have in an assistant director? Laura had better realize I'll be watching her more carefully from now on."
"Occasionally we hire staff members who are quite interesting and intellectual," said Director of Human Resources Warren Ennis. "When they start to fraternize with other intellectual interesting colleagues, it can create a lot of confusion and hurt feelings. We've had to begin a workshop series for supervisors, 'Strategies for Hiring People Who Aren't Smarter Than You,' to avoid these unfortunate situations. We'll be coaching Brandy through the process of making Laura's life so miserable she'll quit so Brandy can hire someone who knows her place."